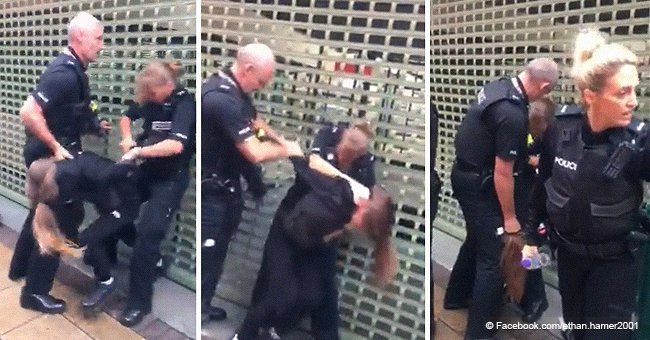 Dramatic video released of burly policeman slapping 14-year-old girl in the face
A video showing a police officer slapping a 14-year-old girl in the face is dividing people on the internet who argue over the use, or not, of excessive force.
The incident took place on Monday afternoon, August 20, 2018, in Accrington, Lancashire, and since then the video has gone viral online.
The Lancashire Police Department has already taken to their Twitter account to let the public know that they are aware of the video being shared on Facebook and that an investigation has been opened.
In the video, two police officers, a male and a female, can be seen wrestling with a teenage girl who is desperately and aggressively trying to free herself.
Please follow us on our Twitter account @amomama_usa to learn more
It is yet uncertain what triggered such a violent reaction by the 14-year-old, but it is believed that she was fighting with someone on the street when the officers approached her.
The controversy generated by the viral video comes from the fact that the male officer opened his and smacked the young woman on her face as they were trying to restrain her.
As the video plays, a crowd can be heard screaming while someone says 'this man's smacking up a little girl. Se was smacked. You are losing your job.'
Eventually, the police were able to handcuff the 14-year-old, whose identity is yet to be revealed. An unnamed 52-year-old woman was also arrested on the spot and both are being charged with assaulting police officers, who had to be transported to the hospital.
While some people believe that the male officer didn't need to slap the girl, others claim that she was trying to attack his face and that he had the right to defend himself.
Recently, two police officers from Georgia were also under fire for using excessive force while restraining a young black child, who is heard screaming and saying 'I'm sorry.' The case is currently under investigation.
The video of the 14-year-old girl's arrest can be viewed here but we must warn our readers that it contains graphic images.
Please fill in your e-mail so we can share with you our top stories!