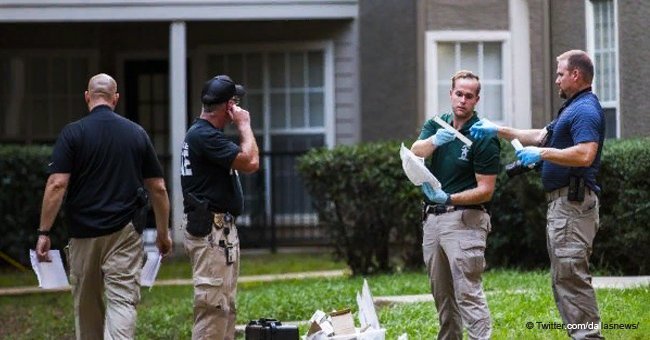 Dad arrested for fatally assaulting 16-month-old baby while yelling 'Jesus is coming'
A 27-year-old father from Lewisville, Texas, stabbed his baby in front of witnesses and called them to come out from their apartments to witness the attack.
The incident took place on Sunday afternoon at the Oak Forest Apartments near Bellaire Drive and father's name has not been released to the media as yet.
Follow our Twitter account @amomama_usa and scroll down to see footage taken at the scene after the attack.
He yelled that "Jesus was coming" while stabbing his son, and his neighbors tried in vain to stop the attack, Fox 4 reported.
A woman threw a trash can from her balcony in the hopes that it would distract the father and another neighbor shot the man in the leg.
The shot put a stop to the attack, and the neighbor who pulled the trigger will not be charged, authorities confirmed.
The 16-month-old baby was rushed to the hospital where he was pronounced dead. The child's mother wasn't home during the time of the attack.
Police have taken the father into custody, and he will be charged. Authorities are still waiting for the results from the toxicology tests.
Neighbor Eduardo Carranza was alerted to the incident outside his window when he heard the gunshot. He later told reporters that the suspect "was talking nonsense."
Another neighbor from across the street was walking her dog at the time and recalls that eyewitnesses were yelling for to get down when the first shots rang out.
In other news, a four-year-old girl was bludgeoned to death by her 79-year-old uncle who inflicted more than a hundred wounds. She was rushed to hospital but succumbed from her injuries.
Earlier this month, the case of a 61-year-old Jean Pierre Ndossoko from Pasadena who killed his one-year-old daughter and eight-year-old son shocked the world.
He wanted to die with his children but fled the scene after stabbing them to death. Authorities found Ndossoko in his vehicle later that day. He tried to commit suicide by shooting himself but survived.
Please fill in your e-mail so we can share with you our top stories!