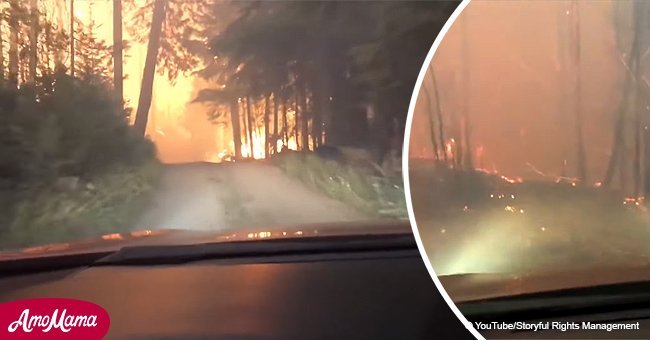 Hikers' dramatic escape through raging wildfire caught on camera
A father and son captured their attempt to escape a wildfire on a camera phone. Driving through the path with trees burning on their sides, they can be heard praying for their safety.
Justin Bilton and his father barely made it out alive after a raging wildfire quickly surrounded them in Montana.
With a phone on his right hand recording everything, Bilton tried to avoid driving through the fire and desperately looked for an exit.
His 70-year-old father can be heard reminding him to drive slowly and to stay calm.
Follow us on Twitter at AmoMama USA for more viral stories and videos.
Speaking with WHDH, Bilton recalled, "It was like the coals at the bottom of your campfire. The whole forest was just embers."
The father and son were out in the woods backpacking through Wyoming and Montana. They set up their camp in Glacier National Park.
Before they went ahead with their trip, they research on potential threats, and at the time, there was nothing too major to stop them from going.
Bilton said, "They told us that they expected some lightning storms during the night and that conditions were dry, but there was no fire."
A day after, they saw lightning had struck, which caused a small fire. Hours after, it turned into an uncontrollable wildfire.
Bilton told his father they had to get out of the park fast. They quickly went into their rental car and looked for clear paths to escape.
Seemingly, there was no way out. Bilton remembered it was like a firestorm and the trees around them were burning completely.
They braved the fire and drove through it until they ended up at a lake. Fortunately, they found a small boat operated by two people.
They caught their attention and finally got help.
In a narrow escape, they were able to survive the wildfire.
Later on, Bilton shared, "We looked back and just saw the whole lakeshore where we had been maybe 10-15 minutes before just completely go up in flames."
He said he still has no idea how the two of them survived the incident.
In another related news, people in Greece also filmed how they desperately tried to escape deadly wildfires.
Please fill in your e-mail so we can share with you our top stories!