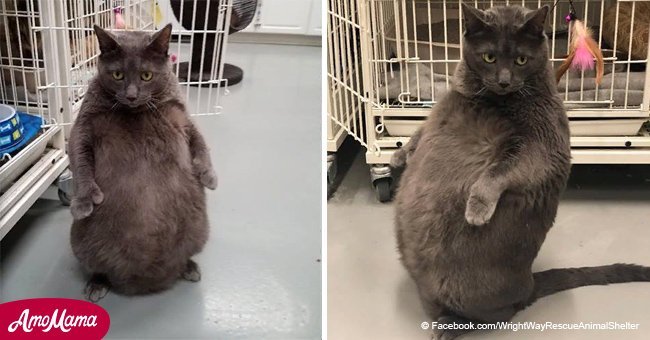 Bruno the sitting fat cat needs help finding a forever home
7-year-old cat, Bruno, was put up for adoption, and from his bio provided by its foster caretakers, he seems to be one of the world's most high-maintenance cats.
The cat was deemed 'too cute to be homeless' by Wright-Way Rescue, who posted on their official Facebook page that the adorable cat was on a look-out for its forever home.
Bruno is quite adorable with his unique proportions and a needy personality. His overweight belly is different from any other cat and it immediately draws people's attention toward him.
The Facebook post mentions that the cat is polydactyl, which means that it has more toes than usual. It also weighs about 25lbs. Despite being a bit overweight, is perfectly healthy and even on a diet.
Follow us on Twitter to learn more.
The animal shelter mentioned that Bruno loves to relax and lay around the house, often sitting next to his owner and occasionally on his lap as well. He is fond of his feather wand toy and could play with it all day long.
He likes to be petted on his head and his spine. He also loves it when someone scratches the side of his face.
However, there also comes a warning about taking care of Bruno. His big belly may be tempting to touch, but he does not like it. He would often pretend to bite or simply swat away any attempts at touching his belly.
Bruno also wants to be petted while he eats. If the petting stops, he might just stop eating as well.
Besides all these tantrums, the cat also enjoys doing tricks like standing on its hind legs when asking for food or other trickeries.
The Illinois based animal shelter showcased Bruno in a relaxed pose, sitting on its hind legs and showing off its enormous cat belly in an adorable manner.
His adorable pose has since gone viral on the internet. The Facebook post from the animal shelter has received more than 25,000 shares and 29,000 reactions so far.
Recently, another cat, named Snow, also went viral on social media after showing his remarkable skill at the cup and ball trick. The cat surprised everyone by beating even his owner at the game.
Please fill in your e-mail so we can share with you our top stories!