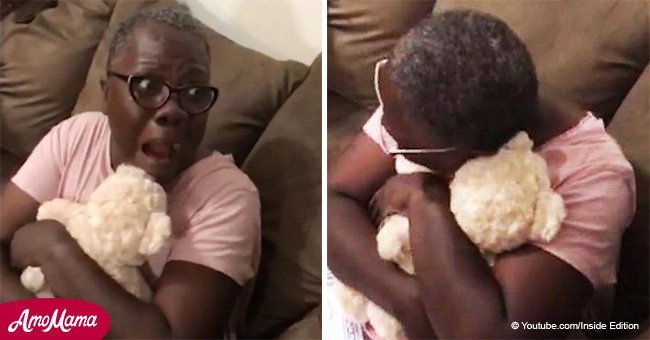 Woman breaks down in tears hearing voice of late mother from inside teddy bear
Bernadette Weekes received a shocking surprise in the form of a build-a-bear teddy bear from her son Patrick Harris. She was forced to let out a scream, overwhelmed at hearing her late mother's voice when she squeezed the bear's hand.
The 55-year-old lost her mother Margaret back in late May 2018 and it had left her devastated. Her mother, who died at 85, was cared for by Weekes up until the time of her passing.
In the video posted by Inside, Weekes received a box which she opened to find a bear. At first, she laughed at the childish toy. Then she noticed the label saying Mother Love and went silent.
Follow us on Twitter for more @amomama_usa.
Patrick then encouraged her to squeeze the bear's hand. When she does so, the voice of Margaret plays saying "I love you." Weekes is rocked by the words of her mother and breaks down.
Her eyes went wide and she let out a heart-wrenching cry of joy as she hugged the bear tightly close to her chest.
Patrick revealed that:
"One of my grandmother's favorite sayings was 'I love you' - she said it to just about anybody, even strangers."
Patrick explained that he "was able to pull up an old video of her saying it and immediately got the idea of making sure it was something my mum could have closeby whenever she needed that extra comfort."
"So I went to Build-A-Bear and built her a bear with my grandmother's voice saying 'I love you.' "
Margaret, who has 11 children, 17 grandchildren, and 11 great-grandchildren, will always be a part of her daughter's life thanks to Patrick's thoughtful actions.
At first, he was worried it might have overwhelmed her but according to him, "she sleeps with the bear every night and [he'll] probably need to get a new battery soon."
He said:
"It's one of the greatest gifts she's ever got and she feels like she has been given her mum back."
In June 2018, Cleopatra Bernard lost her loved one, XXXTentacion, when he was killed in his car upon leaving a motorsports dealership. The rapper, whose real name is Jahseh, left his own gift behind in the form of a coming baby.
His mother disclosed in an Instagram post that Jahseh's unnamed girlfriend is pregnant. She said in the caption: "He left us a final gift."
Please fill in your e-mail so we can share with you our top stories!