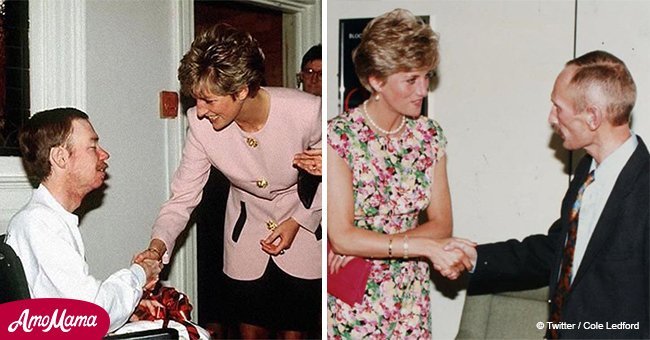 Here is the heartwarming reason Princess Diana never wore gloves
Princess Diana rebelled against royal protocol in many ways. Her opposition to wearing gloves was one way she not only distanced herself from her fellow royals but drew closer to her many admirers.
During the AIDS epidemic in 1987, Diana put it out there that was she was not going to discriminate against anyone when it came to mingling, which was already a frowned upon practice by other members of the royal family.
In front cameras, Diana sat down and shook hands with an AIDS patient in London. The small act shook people worldwide and crushed the stigma based on the fear of catching the disease.
People interviewed her brother Charles in July 2017. He spoke of Diana's practice of not wearing gloves:
"She was not really a gloves person."
Another incident at a children's hospital in Harlem in 1988 was remembered by Dr. Margaret Heagary, a staff member at the institution.
"When she picked this little boy up, she said 'Oh you're as heavy as Harry!' "
Diana, who died at only 36 in 1997, would make it a point to reach out and literally touch the people whenever she went out and she could.
Her brother also described:
"She was very real and very about human contact. And what really mattered that day was to get across a very clear message that, 'I'm going to touch this gentleman - and you can all exist in a community with people who are suffering, and we must help."
Diana was also known for her candid interviews, daring fashion choices, humanitarian work, and all in all her amazing charismatic energy.
In August 2018, the Duchess of Cambridge was also caught in a somewhat rebellious act, but not of her own desire. Husband Prince William proposed to her with a ring, from the late Diana herself, but it wasn't up to par.
The ring was not one-of-a-kind, as is the usual requirement of engagement rings. Since other members of the public could purchase it, many members of the royal family were not in favor of it.
Please fill in your e-mail so we can share with you our top stories!