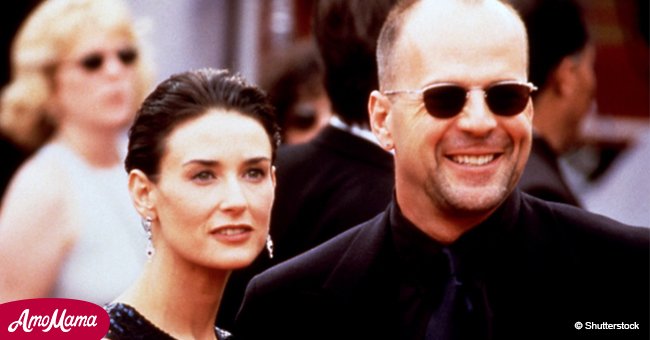 Bruce Willis poses with his three grown-up daughters for a family photo
Bruce Willis posed for a fun photo with his and Demi Moore's three daughters outside a restaurant.
On August 15, 2018, the "Die Hard" actor, 63, was reunited with Rumer, 30, Scout, 27, and Tallulah, 24. They had some fun with an unprepared photo shoot after having a family dinner date on the eve of Rumer's 30th birthday.
Scout, who is known for her work on "Bandits," "Moonrise Kingdom," and "The Scarlet Letter," posted the images on her personal Instagram account.
She captioned the snaps: "Just before we took this photo my dad said, 'Hurry up, I have to fart.'"
The actor is all smiles in the photos as he wraps his arm around Rumer, who won the season 20 of the hit show "Dancing with the Stars."
Follow us on our Twitter account @amomama_usa to learn more.
Bruce wore a powder blue shirt and grey suit trousers, while Rumer, Tallulah, and Scout opted for a range of more casual outfits.
The family outing comes after Demi Moore, 55, roasted her ex-husband during a surprise appearance at the Comedy Central event honoring the Hollywood action star recently.
In the television show, Moore gave the audience some insight on her marriage to Bruce. The former couple has split after 13 years of being together.
"I was married to Bruce for the first three Die Hard movies, which makes sense because the last two sucked," she said.
Since March 2009, Bruce has been married to model and actress Emma Heming, 40. The couple shares two daughters, Mabel, six and Evelyn, four.
On August 16, 2018, Rumer was showered with Birthday wishes from Scout and Tallulah.
Alongside a slideshow of her sister, Scout wrote: "Oh my big sister! Oh my best friend!!! You charm me with your (tender-hearted) vulnerability. You are weird to the core, you are so bursting with love and compassion."
"You are so strong, so fierce, you strive to grow and become better every damn day and i have seen the fruits of your labor. I know 30 can seem big and scary but you are going to thrive this year and I think it will be the best yet!"
She added: "You are wholly enchanting when you allow your most pure self to shine and that is what I wish most for you this year!! To allow the rest of the world the honor to see you in your truest form as I am privileged to every day!"
Tallulah also posted a throwback photo of Rumer. She captioned her post: "(Three) decades of unstoppable power. You were the first big person I ever knew, and gave (me) the (privilege) of walking ahead of me and stubbing the metaphorical toe on all the ouchies in life so I wouldn't have to."
"You lead and you listen and you pause and you try, especially when it's difficult you try. I love you my dreamy friend. Thirty looks damn good on you (Rumer)."
Rumer, on the other hand, also shared a sexy snap of herself that said, "Happy birthday to me."
Please fill in your e-mail so we can share with you our top stories!