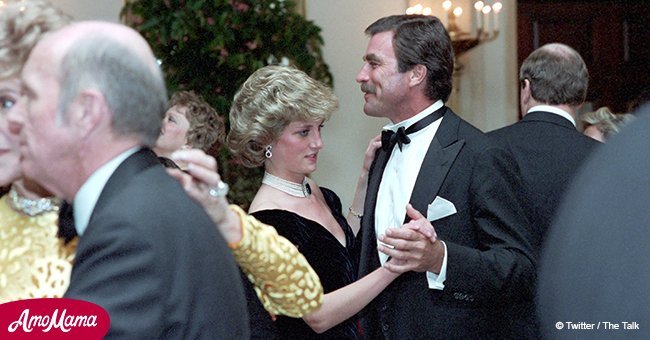 Rare photos of 24-year-old Diana dancing with Tom Selleck and Clint Eastwood

Princess Diana captivated the world when she showed up at the White House gala hosted by US President Ronald Reagan in September 1985.
A memorable photo of the late royal dancing with American actor John Travolta emerged from that night, but more snapshots have surfaced showing her mingling with other stars as well.
New images from the glittering night show Diana also sharing a dance with Hollywood royalty Clint Eastwood and Tom Selleck.
The beautiful Princess of Wales looked shy in the pictures. It had only been just shy of four years since she had married Prince Charles in 1981.
Taken by White House photographer Pete Souza, the photos were shown in a documentary about Diana's dresses.
One photo shows the popular royal clutching Tom Selleck's shoulder with her left hand while gently holding his hand with the other. The "Magnum, P.I." actor beams while sharing the moment with Diana, who was then just 24 years old.
Diana and Charles attended the dinner as part of their trip to the U.S. The event is seen as the defining moment when the public became fixated on Diana.
President Ronald Reagan famously forgot Diana's name in an after-dinner speech.
He said: "Permit me to add our congratulations to Prince Charles on his birthday just fives away and express also our great happiness that... er... Princess Davod - Princess Diane [sic] - here on her first trip to the United States."
Diana's dance with "Saturday Night Fever" star John Travolta emerged as an iconic moment.
Repeatedly asked about what he thought of the dance, Charles famously said: "I am not a glove puppet."
The royal couple ended their marriage in 1996 after a four-year separation. The following year, Diana was killed in a car crash in Paris.
The Victor Edelstein gown Diana wore at the White House gala made such a huge impression on the public that it was sold in 2013 for a whopping $311,000.
Please fill in your e-mail so we can share with you our top stories!