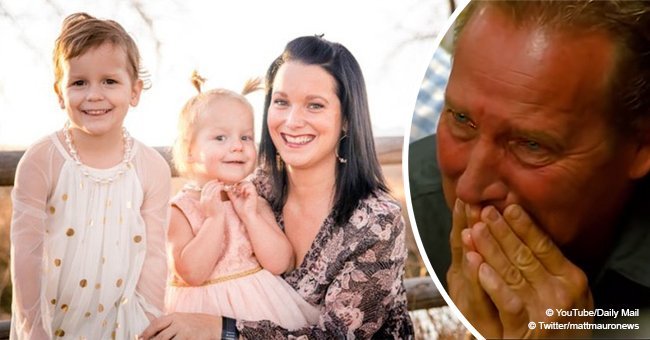 Father of slain pregnant woman breaks down in court during murderer's sentencing

Shannan Watts and her two daughters were reported missing earlier this week. Their bodies have been found in an oil tank.
Her husband, Christ Watts, has since been charged with the murder of four-year-old Bella, three-year-old Celeste, and his pregnant 33-year-old wife.
Follow our Twitter account @amomama_usa for updates about this case and scroll down to see the latest video clip of the court proceedings.
A clip shared by Daily Mail on YouTube captured the harrowing moment when Shannan's father, the 44-year-old Frankie Rzucek, broke down crying in the court.
While Chris was being sentenced, Rzucek lowered his head and was overcome with emotion while being comforted by another family member.
Before the hearing, Rzucek spoke to the media and thanked everybody for their support. He said:
"Thank you, everyone, for coming out to the candlelight vigil and saying all your prayers. And keep the prayers coming for our family."
Chris was charged with two counts of murder of a minor, three counts of unlawful tampering with a body, as well as the illegal termination of a pregnancy.
HIs wife and daughters were reported missing on August 14, and their bodies were found in a full oil tank in an oil field nearby their house.
Chris was denied bail and has not entered a plea, and the court heard that the property where their bodies were found belongs to the company that Chris worked for.
According to his affidavit, Chris and Shannan were discussing separation. He left briefly and when he returned to the bedroom, saw Shannan "actively strangling Celeste."
He said Shannon had already killed Bella. Her body was "sprawled across the bed," and that he was too late to save Celeste.
In a fit of rage, he strangled his wife and disposed of their bodies at the oil field. The story is still developing, and more updates will be released as they become available.
Please fill in your e-mail so we can share with you our top stories!