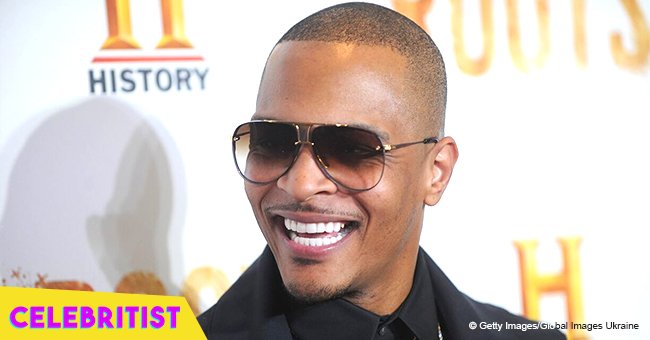 T.I. looks unrecognizable with an afro and beard in pics from his new movie
T.I. gives his fans a sneak peek of his character in the upcoming Netflix movie "Dolemite Is My Name!" by sharing photos of him in costume.
T.I. stars in new Netflix movie
T.I. is set to star in Netflix's newest comedy movie together with Eddie Murphy, Chris Rock, Wesley Snipes, Mike Epps, and Keegan-Michael Key.
The movie revolves around the life of Rudy Ray Moore, a legendary comedian, musician, actor, and movie producer. Moore eventually popularized the character "Dolemite," a pimp who influenced the entire "pimping" style that everyone is familiar with today.
To a lot of rap enthusiasts, Moore has been referred to as the "Godfather of Rap" due to his raunchy and sexually-explicit rhymes. He became famous in the 1970s when his underground records became popular in black communities. He used his funds to produce and star in "Dolemite," a blaxploitation movie featuring a pimp with a bunch of kung-fu-fighting prostitutes. The film, which was not available publicly, was an underground sensation.
Eddie Murphy is set to play Moore, while Wesley Snipes plays D'Urville Martin, an alcoholic actor, and director who was tasked to film "Dolemite." Meanwhile, T.I.'s role in the movie is to play a movie producer, and his costume features an afro and full facial hair that suits him and makes him look fresh out of the '70s.
The rapper-turned-actor made sure to share his behind-the-scenes photos on Instagram, even having Eddie join in on one of the pictures.
T.I.'s Big Marvel Movie Break
T.I. had his big acting break in Ant-Man, where he was a part of the heist crew of the titular character himself, portrayed by Paul Rudd. He reprised his role for the sequel that hit theaters last Month.
T.I.'s Marital Woes
Harris has been the topic of many news articles lately after he was caught cheating on his wife of ten years Tameka Harris. After a fan posted a video of the rapper getting cozy with Asia'h Epperson backstage in one of his shows, people speculated that this must've been the end for T.I. and Tiny.
However, it seems the couple was able to patch things up just in time for Tiny's birthday last month, where her husband gifted her with a sports car filled with Louboutin gift bags, clearly eager to make amends.
While they have been fighting due to Tip's recent cheating scandal, Tiny made sure to acknowledge everything that her husband has done for her and her children.
Fans were delighted to see the husband and wife interacting happily with one another as they swarmed the Instagram Live video's comment section. This public interaction between the two is a good sign that they are in much better terms than they were last month. Now, they are hoping that they finally get to fix their marriage for good, and become better for one another.
Please fill in your e-mail so we can share with you our top stories!