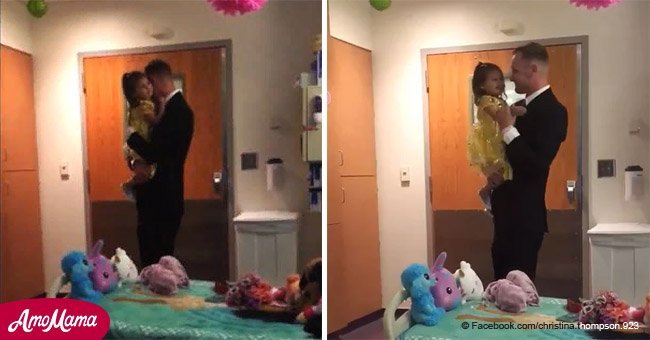 Father surprises little cancer patient with daddy-daughter dance in hospital
Loving father's touching gift to his little girl
Two-year-old Phoenix Thompson was diagnosed with acute myeloid leukemia on the 2nd of August 2018.
Within two weeks, Phoenix was hospitalized and started a course of aggressive chemotherapy. She will have to undergo four rounds of chemotherapy within the next five months in the Aflac Cancer & Blood Disorders Center of Children's Healthcare of Atlanta.
Hospitals are not cheery places at the best of times and must be especially difficult for a tiny toddler, so her father decided to surprise her.
Brett Thompson decided to do something to cheer her up. He dressed up to the nines in his best suit and tie and invited his baby for a dance to the sound of Tim McGraw's "My Little Girl."
A nurse came in, and seeing the dancing pair, filmed the special moment between father and daughter.
Chemotherapy is particularly hard on the little ones, and Phoenix's dad wanted to give her a treat, a lovely memory to hold on to.
Read more about Phoenix Thompson on our Twitter account @amomama_usa.
Acute myeloid leukemia is a blood cancer that usually begins in cells that turn into white blood cells, and the disease usually starts in the bone marrow.
This aggressive cancer is treated with intensive courses of chemotherapy, but induced remissions are seen in only 20 to 45% of the patients.
Little Phoenix and her parents are fighting a terrible battle, sustained by hope and love. Christine Thompson spoke of her husband as "the best father" and she believes that Phoenix is a brave little fighter just like her dad.
In order to raise money for Phoenix Thompson's treatments the community of her hometown, Winder, Georgia, is holding a benefit at the Barrow County Veterans Resource Center on the 9th of September 2018.
Friends have also started a GoFundMe page to help the family in their time of need.
Many children are suffering from childhood cancers and fighting the dread disease with all their might.
3-year-old cancer patient gets heartfelt send-off with a song after completing chemo
4-year-old girl with cancer marries her favorite nurse in beautiful ceremony
Please fill in your e-mail so we can share with you our top stories!