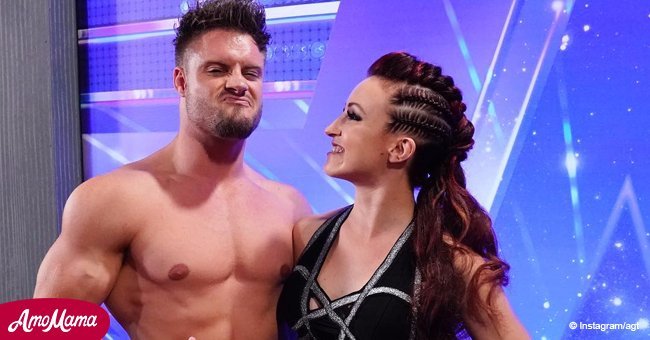 'AGT' contestants return after gravity-defying act went wrong
On Tuesday, a married Salt Lake City, Utah couple had "America's Got Talent" audiences and judges in awe as they performed their trapeze act. Their performance saw them bringing back one move they failed to do correctly last month.
This time, the pair didn't have fire as part of their stage act. A video shows the two settling into the act as the wife blindfolds her husband as everyone holds their breath.
Mary and Tyce Nielsen are the two members of the trapeze act called Duo Transcend. On Tuesday, they came back to "America's Got Talent" after one of their stunts went wrong last month.
The pair performed a blindfolded trapeze trick that failed in the Judge Cuts round. During that performance, their final big trick involved Tyce blindfolding himself as he hung upside down and prepared to catch his wife.
For more on this story go to our Twitter account @amomama_usa. However, when Mary fell backwards so her husband could catch her by the ankles, she slipped through his grip and fell heavily to the floor.
Audiences and judges were heard screaming. While her mother and 2-year-old son, Jaxx, watched in horror from the audience.
Despite this, the pair chose to never give up as they performed their acrobatic act for the second time this week. Tyce, who suffers from keratoconus, a progressive eye disease, was blindfolded again but this time he redeemed himself by catching Mary by the ankles before dangling her with one leg.
The crowd went wild as the pair continued the last parts of their act and kissed passionately in the end. The judges were left in awe.
"Hands down, one of the best acts of the night," judge Heidi Klum said. "I was so worried because the last time you did fall to the ground. It didn't happen again, it was perfect. It was fantastic," she added.
Simon Cowell shared that "I don't normally love these acts, [but it was] brave, incredible, nuts," and added, "I would like to see the fire back, though."
Judge Howie Mandel joked, "I've been with my wife for 40 years and there's no way, not even 10 per cent, of what [Mary] trusts in you. I was looking forward to you with fear and trepidation to see you redeem yourself from that fall. There's so much trust, so much passion, so amazing."
After their performance, Tryce had this to say, "It took a lot of guts for her to trust me enough to do that again so I'm proud of her." He concluded that "She's so brave, she's so powerful, it's so cool that she's with me."
"America's Got Talent" airs on Tuesdays and Wednesdays at 8 p.m. ET on NBC.
Please fill in your e-mail so we can share with you our top stories!