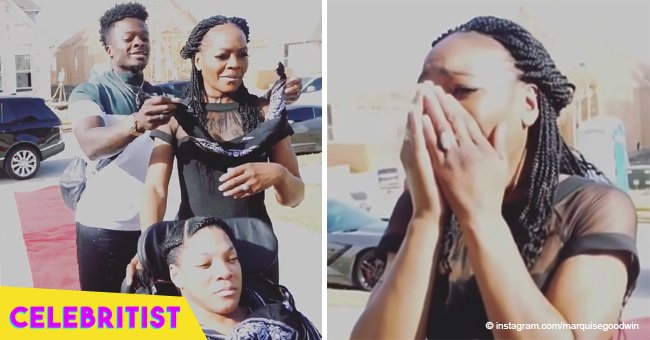 Star football player surprises mother and disabled sister with $20 million house
San Francisco 49ers star Marquise Goodwin, who has been a professional NFL player since 2013, recently bought a $20 million house for his mother and sister.
In a short video the man uploaded to his Instagram account, he was portrayed walking next to his mother, Tamina Goodwin, and his sister, Deja, who was on a wheelchair due to her physical disability.
Both women got her eyes covered by black bandanas, and they were standing on a long red carpet in what seemed to be a doorway. The recording showed how Marquise took the bandanas off from his mother and sister and, as soon as Tamina saw the house in front of her, she started crying.
After that, she hugged Marquise, and the person recording slowly turned around, showing the beautiful home Tamina and her daughter would live from that moment on.
"I know mama... I can feel your energy in this video! All the obstacles WE have overcome... Man... I love you so much mama... thank you for EVERYTHING! Especially blessing me with a sis like my Deja!!!" wrote Marquise in the caption.
The NFL player bought that house soon after he signed a 3-year $20 million contract with the San Francisco 49ers thanks to his outstanding performances on the field. Instead of spending it on luxury cars or expensive holidays, he used it to make his family's life easier.
HIS FAMILY HAS ENDURED DIFFICULT SITUATIONS
In November 2017, Morgan Goodwin-Snow, Marquise's wife, suffered a miscarriage that left them devastated. If things weren't bad enough, the NFL star's father died one month later.
Marquise has revealed that Tamina and Deja have been a great source of comfort to him during the difficult times. He added that Deja has been a source of inspiration for him.
Navaeha Smith was very excited about a party that her school in Monongahela, Pennsylvania was planning, but she knew that she couldn't have her dream dress, which cost around $200, as it was very difficult for her family to afford it.
However, Navaeha visited her father at her job and, when he showed up with a bag covering the dress she liked, all she could do was hugging the man and cry. Ricky Smith, Navaeha's father, saved money from his three jobs to buy exactly what his daughter wanted.
Please fill in your e-mail so we can share with you our top stories!