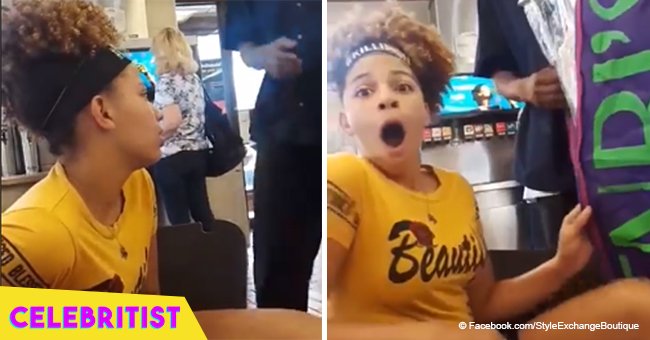 Father working three jobs surprises his teen daughter with her dream dress for her 8th grade formal
She had a dream dress in mind for a dance at her school, but knew that her father would not be able to afford the special garment for her.
8th grade student Nevaeha Smith of Ringgold Middle School in Monongahela, Pennsylvania was getting excited for her formal at school, but realized that the dream dress she had found for the occasion would probably be too expensive.
The dress would set them back $200, and she knew it was likely too much for her family. Her father, Ricky Smith, was torn, but told her he couldn't buy it for her, so she had made peace with the fact that she would have to wear something else.
But then one day Navaeha went to visit her dad at one of his three jobs. She sat waiting on a chair in the lobby, and seemed confused when her father approached her with a garment bag in hand.
It's when he opens the garment bag that the tears start to roll. Inside the garment bag is Navaeha's dream dress!
She seemed completely overwhelmed by the wonderful gesture, realizing that her father has saved money from his three jobs to be able to afford the dress just for her, and just to make her smile.
Navaeha is utterly shocked, turning first to the camera before jumping up to hug her dad. But she's unable to actually wrap her arms around him as she can't remove her hands from her face in shock.
Instead, her dad just holds onto her, hugging her and whispering in her ear as she cries into his chest in gratitude.
While Ricky had made no promises to his daughter in the initial discussion, he had decided he would see what he could do, because he wanted nothing more than to see his 14-year-old daughter smile.
The 36-year-old juggles three jobs, working at McDonald's, Popeye's, and the Circle K convenience store, just to make ends meet for the family.
Navaeha was absolutely in love with the dress, and incredibly grateful to her dad who would work so hard just to make her happy.
Please fill in your e-mail so we can share with you our top stories!