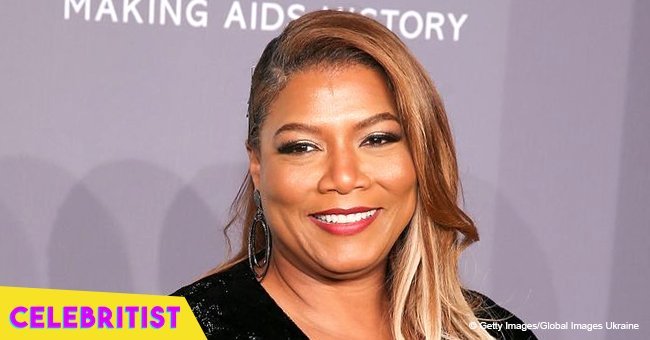 Queen Latifah turns heads with her red cheek-length pageboy bob & yellow outfit in recent video
Queen Latifah shared a tribute video on Instagram while sporting a cheek-length pageboy bob and she totally pulled off the look. The "Set It Off" actress had the most touching words for the late "Queen of Soul," Aretha Franklin, who died recently.
The recording began with Latifah updating her followers with her current location. She revealed she was on the set of her TV show "Star" and proceeded to deliver a heartfelt tribute to the late Aretha Franklin:
"I just wanna take a moment to say 'rest in peace and in power' to the sister Aretha Franklin."
Latifah recognized that the late icon had an influence that went beyond the shores of the United States, across the world.
"Thank you so much for all your positive influence on us. You have left an indelible mark on us as a people, as a nation. You left your mark on the world."
The "Joyful Noise" star then proceeded to acknowledge the role Franklin's music played for her as a woman:
"And definitely for me as a woman. You told me I had to have my respect; it's all good to feel like a natural woman. And your gospel music has been there for me in the roughest times. Songs like 'Holy, Holy'…"
Amidst sighs most likely brought on by her memories of the late singer, Latifah concluded:
"Thank you for your gift, your artistry, and you rest. God bless you. Peace"
Meanwhile, Latifah, who is herself an icon in the entertainment industry, was recently announced as the recipient of the 20th annual Marian Anderson Award. The honor is reserved for "critically acclaimed artists who have impacted society in a positive way," and past recipients include Elizabeth Taylor, Oprah Winfrey, Jon Bon Jovi, and Maya Angelou.
While announcing the rapper as this year's recipient, Philadelphia's Mayor Jim Kenney said:
"Queen Latifah is an excellent role model and clearly a well-deserving recipient of this prestigious honor. I can't think of anyone more vibrant and responsive."
48-year-old Queen Latifah is the first rapper and the youngest recipient to win the award.
Please fill in your e-mail so we can share with you our top stories!