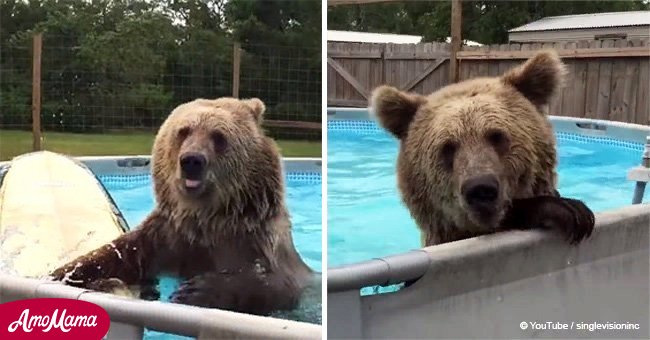 Grizzly bear does belly flops in the pool and shares 'perfect smile' for the camera
Bruiser, a brown bear, took a swim in his sanctuary's pool and seemed to enjoy his time in the water on this hot summer's day.
Single Vision is a sanctuary for exotic and endangered animals in Melrose, Florida, where Bruiser is a permanent resident and lives a blissful life.
The sanctuary shared the video of Bruiser on YouTube in 2015, climbing up the ladder and jumping into the pool that is placed quite high above the ground.
Carl Bovard is the founder and owner of the Single Vision Sanctuary, and he raised funds on IndieGoGo to give Bruiser the unique gift that the bear loves.
Bovard can be heard asking, "Bruiser, are you a happy bear this morning?" to the bear. Read more on our Twitter account @amomama_usa.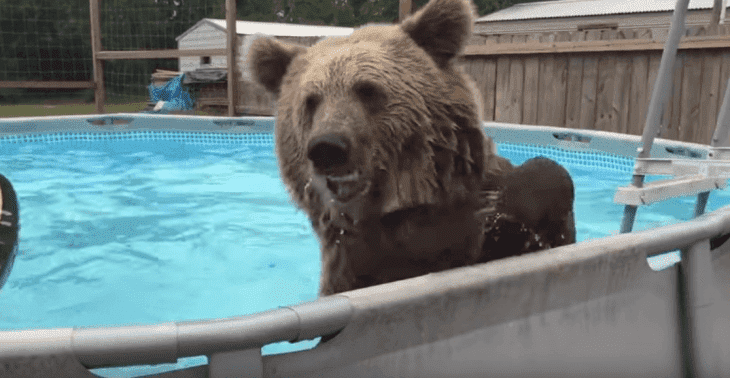 Source: YouTube / Single Vision
After jumping into the water, Bruiser takes a quick swim before moving towards the camera. He then quickly gets out of the pool and spends a few seconds on the ground, playfully asking Bovard for a treat.
Bruiser then rushes back and belly-flops in the pool and continues swimming, while his mate Honey Bear can be seen lounging near the pool.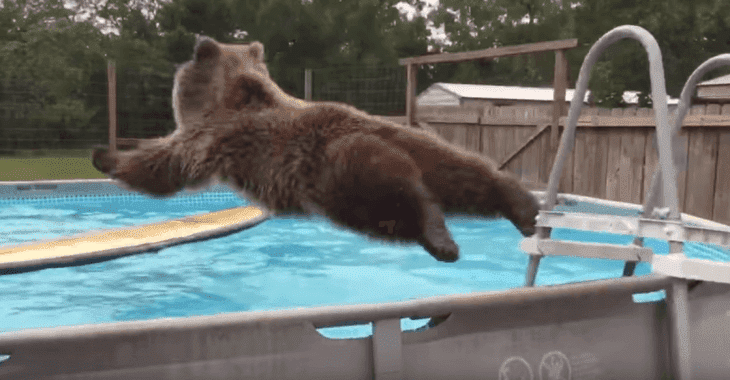 Source: YouTube / Single Vision
Bovard was able to sign a contract with Poolside Designs for the installation of Bruiser's dream pool after he was received more than $58,000 from donations from the supporters of the sanctuary.
The founder of Single Vision posted an update on the campaign page and described the pool as the "ultimate Tiger & Bear & Human pool," for the whole team to enjoy.
Bruiser is a Syrian Brown Bear, the last of its kind as Syrian Brown bears have been "virtually eliminated in the wild," due to hunting and the destruction of their habitat, according to Bovard.
Bovard said that even though the construction of the pool cost them more money when compared to an inflatable pool, it was a money-saving venture in the long run because Bruiser was a bear in a china shop and would have destroyed many inflatable pools until now.
When Bovard was 14-years-old, he lost his eyesight in an accident, and it only came back in one eye later.
He says that after the incident he had only one goal in mind, and that was to save as many animals as he could. He had always loved animals since he was young.
He worries about animals that are fast disappearing from the face of the earth at alarming rates and vows to do his bit to save them.
Please fill in your e-mail so we can share with you our top stories!