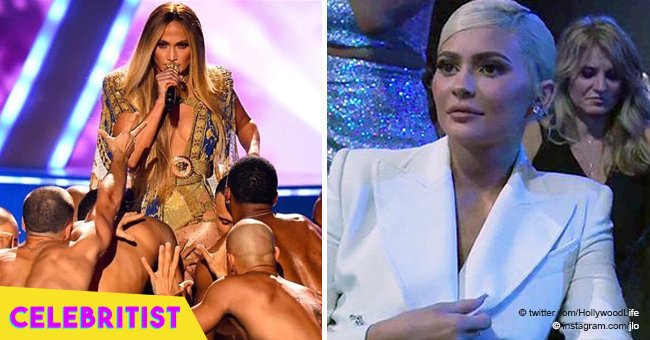 Kylie Jenner faces backlash for looking 'bored' during Jennifer Lopez's VMA performance

Makeup mogul Kylie Jenner, best known for "Keeping Up with the Kardashians," has been getting backlash for being too serious during J-Lo's presentation at the VMAs.
Even though the entire ceremony was quite entertaining, Lopez's performance was labeled by many members of the audience – and people in their homes – as the best feature of the night.
As Celebritist previously reported, the singer went through a high-tempo medley of some of her biggest hits, including "Waiting for Tonight," "On the Floor," "I Ain't Your Mama," "Dance Again," "El Anillo," "Booty," and so on.
At some point in the show, Lopez and the rest of the dancers put on shiny golden outfits and started shaking their bodies, what drove the audience crazy.
Even Alex Rodriguez, Lopez's boyfriend, seemed very surprised and took his phone out to record from a very privileged spot – he was right in front of the Queen of the Bronx – his girl's moves.
Just as Rodriguez, several people in the crowd stood up and dance to Lopez's songs. However, when the camera portrayed Jenner and her boyfriend, rapper Travis Scott, they looked completely bored and unimpressed.
As soon as that image was shared, several people took to Twitter to share their thoughts on Jenner's apparent boredom.
One of them was user Christina Costanzo, who pointed out that the member of the Kardashian/Jenner clan should be ashamed for sitting during "the Queen's" presentation.
User @AndreaPunksmom wondered what the point was of going to such an important event to be a "total buzz-kill." Andrea added that Jenner might have thought that looking like she was having fun was not cool.
It was not the only time that Jenner had to look at Lopez onstage as she won the Best Collaboration Award and the Michael Jackson Video Vanguard Award.
In her speech, she talked about how much she changed after having children and how happy Rodriguez make her feel. "You're my macho baby, and I love you," finished Lopez.
Please fill in your e-mail so we can share with you our top stories!