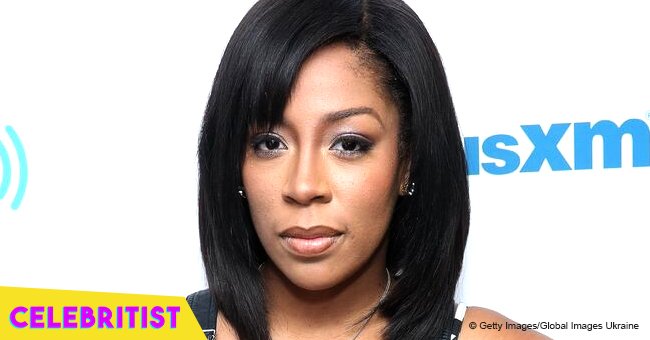 K. Michelle reveals she went from a size 9/10 to a size 4 after silicone injection removal

K. Michelle drops down to a size four after previously being a size 9 to 10 after having her silicone injections removed.
Life After Surgery
R&B star Kimberly Michelle Pate lost a total of 25 pounds after she had four plastic surgeries to remove illegal butt injections that had internally leaked down her legs.
Giving her fans an update regarding her progress, the singer shares:
"I'm healing up. I lost 25 pounds that my doctors are saying is mandatory to gain back for health. I'm just happy I have no more silicone in my body and I'm in physical therapy to build my muscles again."
The "Love and Hip Hop: Hollywood" star has gone through four surgeries and two blood transplants after her black-market-obtained silicone butt injections almost killed her.
The Human Body and Foreign Objects
Telling People Magazine about the dangers of having illegal injections, she realizes that the body is not meant to take in any foreign objects. Like many people around the world, the R&B star felt the need to get injections done to make her glutes look bigger and rounder.
"Now we know the outcome of these [injections]. Before it was up in the air, but now we know the outcome, that your body cannot handle foreign objects in it."
The butt-implant trend started with Jennifer Lopez, but it rose to fame when Kim Kardashian started to get them. Since then, it has become a huge trend among celebrities and fans alike.
K. Michelle's Plastic Surgery History
In 2012, K. Michelle decided to get hip and butt injections on the black market from a man in Atlanta who was not a registered physician. Given that her favorite rapper had done it, she felt it would be safe for her to get it as well.
"He wasn't a doctor. It was black market. It was these 'hydrogel' injections. When I found out my favorite rapper did it, that's when I decided, 'I'm getting it done.'"
Pate is no stranger to plastic surgery, having had plenty of it in the past couple of years. Previously, she had breast implants, had the fat from her stomach area removed and injected into her glutes and hips, and is even rumored to have had a nose job.
"I wanted to look like a Coke bottle."
While her illegal injections were good for the past five years of it being there, she started to feel some intense back and leg pains, migraines, and chronic fatigue starting in 2017.
The doctors almost diagnosed the singer with lupus, but later on, discovered that the silicone injections she had started to damage the tissue in her legs which has been spreading in her lower body.
The Road to Recovery
K. Michelle then underwent four painful corrective surgeries to remove the injections along with the dead tissue in her legs. Although it was tough and the near-death experience scared her, she is working towards bettering herself. Her experiences have made her appreciate her body for what it is, opening up a new chapter in her life as someone with a whole lot of self-love.
"I'm happy with my body. It's nowhere near the ideal that I had before, but when it's all said and done, it's going to be my body."
Please fill in your e-mail so we can share with you our top stories!