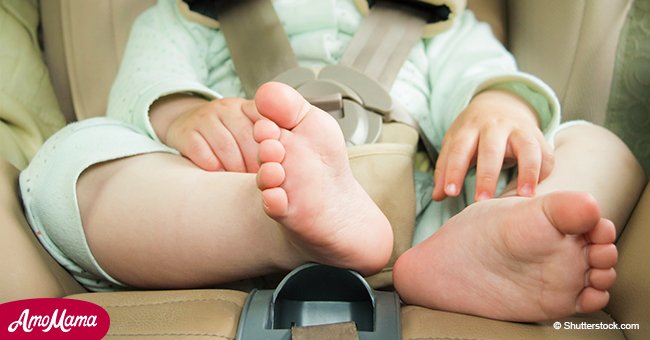 Mom cautions all parents after car ride where newborn baby stop breathing
The family were running their errands as usual, and all seemed to be well with their two daughters as they drove between stores doing their shopping. That is until they returned home.
Kirsti and Christopher Clark had taken three-year-old Malena and three-week-old Harper with them as they ran their errands in a number of different stores. Each time they stopped, they removed their daughters from the car and took them in with them.
The two girls were healthy and happy when they set out, and that didn't appear to change throughout the course of the day.
By the time they were ready to return home, it was peak-hour traffic, and it ended up taking them nearly two hours to reach their house.
It was past Malena's bedtime when they arrived, so they removed both girls from the car, but left Harper in her car seat for 15 minutes while they tucked Malena into bed.
Christopher then returned to remove the baby from her car seat, and she looked uncomfortable when he tried to place her on his knee. Instead, he laid her out on her play mat, and her lips instantly began to turn blue.
The little girl's jaw was clenched shut, and white foam began to froth at her nose and mouth. She was having a seizure, and a violent one at that, throwing her head backwards and arching her back.
They rushed Harper to the emergency room, where doctors needed to resuscitate her. A night of tests confirmed that nothing serious was wrong with the little girl, and the only problem was the length of time she had spent in her car seat.
Any child that spends more than an hour inside a car seat is at risk of suffering from oxygen deprivation.
The fact that Harper had spent two hours in her car seat had led to such severe oxygen deprivation that when she had been taken out of the seat the sudden rush of oxygen into her body had sent her tiny system into shock.
Kirsti has shared the story in the hopes of warning other parents so that they never have to go through the stress that she experienced because of something most people don't even know about.
Please fill in your e-mail so we can share with you our top stories!