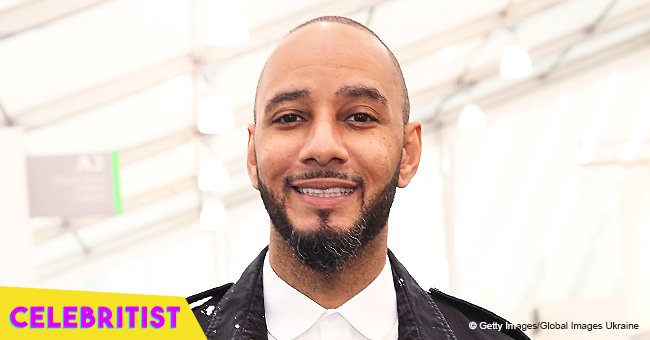 Swizz Beatz melts hearts with picture of his 4 handsome sons
A new picture of Swizz Beatz's four sons together reveals their special bond born out of their parents' dedication to raising them in a healthy blended family environment. Beatz's two older sons are from his previous marriage to Mashonda Tifrere while his two younger sons are courtesy of his wife, Alicia Keys.
Eight years into his marriage to Alicia Keys and Swizz Beatz is all about family. He recently shared a photo of his four boys getting along perfectly despite the fact that his two older sons in the photo are from his ex-wife Mashonda Tifrere.
It's no secret Beatz and Keys' relationship had a messy start. Just months after finalizing his divorce from Tifrere in May 2010, Beatz married Keys who was already pregnant with their first child. However, their love proved stronger and Tifrere recognized this. In fact, they've managed to overcome their differences and now all work together as co-parents. Tifrere even used her experience sharing parental responsibilities with the R&B couple as a foundation for her book, 'Blend: The Secret to Co-Parenting and Creating a Balanced Family' with Keys writing the book's foreword.
Another positive outcome from Tifrere's friendly relationship with her ex and his wife is currently in the works too. According to theJasmineBrand, Tifrere is set to star in a reality show where she'll be assisting other blended families in fostering strong co-parenting relationships. Having successfully established one herself with her ex-husband and Keys, Tifrere would be an asset to the show which will feature other celebrities who co-parent including Malik Yoba and Misa Hyton, Diddy's baby mama.
Meanwhile, Beatz's latest photo of his four boys is a testament to the kind of relationship he, his wife and ex-wife share. Tifrere's boys, Kasseem and Nas are joined in the photo by Keys' two younger boys, Egypt and Genesis Ali. The foursome appeared happy and close, most likely a result of their parents' amicable relationship.
On Mother's Day, Keys was also grateful to be a mother not just to her two children but to Tifrere's children too. She wrote a heartfelt greeting where she thanked all of Beatz's five children for "teaching me, growing me, deepening me."
In June, it was Beatz's turn to showcase his love for his family by sharing a photo of all six of them, his wife included. The photo he captioned '#TeamDean' (Beatz's real name is Kasseem Dean), appeared to have been taken on the tarmac of an airport. The family of seven were standing by the steps of an airplane.
Many blended families could learn a thing or two from Beatz, Keys and Tifrere. They've taken a messy situation and turned it into something positive and are now reaping the rewards of their joint efforts.
Please fill in your e-mail so we can share with you our top stories!