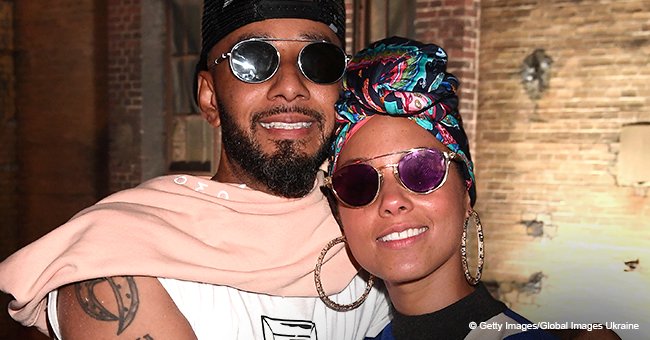 Alicia Keys and husband Swizz Beatz are all smiles in picture with all of his children

Alicia Keys and Swizz Beatz shared a photo of them and their children on Instagram, proving they are the perfect example of a well-functioning blended family.
After being married for seven years, Alicia has become the second mom to Swizz' children from previous relationships. While the rapper co-parents his children with his exes, his wife has made it a lot easier for him as they care for his children together whenever they are at their home.
Proving that all is well in their household, Beatz shared a photo of his beautiful wife alongside him and his lovely children. He captioned the post "#TeamDean", which is his last name. The entire family was dressed in casual clothing, ready to go on a summer family affair. Now that it seems they are headed towards somewhere exciting, we can't wait to see more updates on their trip.
Inside the Keys-Dean Marriage
Alicia Keys and DJ Swizz Beatz exchanged vows in 2010, the same year they welcomed their first son together, Egypt. Four years later, she gave birth to their second child and son, Genesis Ali. The two boys also have three siblings from their dad, and all of them get along quite well, proving that their current family set up is something admirable as everyone seems to be enjoying one another's company.
Alicia and her beau recently appeared on the cover of Culture Magazine, paying tribute to The Black Panther Party by re-creating an iconic photo of famous activists Eldridge Cleaver and his ex-wife Kathleen Cleaver.
Recently sharing the secret to a joyful marriage, they said that the key is communication, as cliche as it sounds.
According to the couple, in their seven years together as a married couple, they've never fought about anything intense nor have they raised their voices against one another. Instead, they would communicate about their problems and frustrations peacefully, making sure that each side is heard.
"We've been married seven years and we don't fight, we don't raise our voices. It's all about communication. Where I'm weak, she's strong—and vice-versa. We always talk about how we don't own each other. She owns herself, I own myself, but we come together and have this amazing family. We established that early, both coming out of long relationships. We knew what had worked in our past relationships and what hadn't. We came to the table a little knowledgeable for this round."
Co-Parenting with Mashonda Tifrere
They also opened up about how co-parenting has been with Dean's ex-wife Mashonda Tifrere, who is set to release a book about her co-parenting experience in a few months. Sharing her fantastic relationship with her ex-husband and his new wife Alicia, Mashonda dished to People Magazine about how they helped her complete the book.
"With a dedicated chapter for fathers written by Swizz and a heartfelt foreword penned by Alicia, the three of us are raising our voices to help generations of families worldwide,"
The book aims to help generations of families worldwide, who are struggling with the do's and don'ts, and the 101s of parenting.
Likewise, Alicia has also been very open to the fact that she now co-parents not just her own children, but those of her husband's. Sharing a heartwarming post on Mother's Day, she made sure to include Kasseem, Nas, and Nicole in her greeting.
"I never thought love could be so deep, so wide, so open, so full, so elevating! Such a teacher! Thank you for teaching me, growing me, deepening me!! I'm Forever yours Egypt, Genesis, Kasseem, Nas, and Nicole."
The blended family situation that Alicia, Swizz, and their children experience is something that thousands of families around the world experience. The way the Deans choose to see their situation in a positive light, however, is something that some families could learn a thing or two from. Lucky for them, they can grab a copy of Mashonda's co-parenting book that is set to hit the stands soon.
Please fill in your e-mail so we can share with you our top stories!