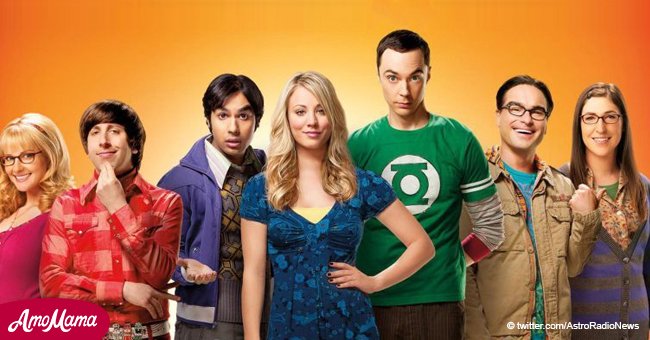 The end of 'The Big Bang Theory' has just been revealed
"The Big Bang Theory," the longest-running multi-camera series in television history is set to end next year. It's going to wrap up with season 12.
The decision to end the sitcom was a mutual one between the creators and the cast. Fans have taken to social media to express their devastation.
In a joint statement on social media, Warner Bros. Television, CBS and Chuck Lorre Productions said, "We are forever grateful to our fans for their support of The Big Bang Theory during the past twelve seasons. We, along with the cast, writers and crew, are extremely appreciative of the show's success and aim to deliver a final season, and series finale, that will bring The Big Bang Theory to an epic creative close."
The news of "The Big Bang Theory" coming to an end was announced on Wednesday. Its last episode is set to be in May 2019.
For more on this story go to our Twitter account @amomama_usa. The comedy initially debuted in 2007.
It has received 52 Emmy nominations, 10 wins and 7 Golden Globe nominations. The show will conclude on the upcoming season 12, with 279 episodes.
The series stars Johnny Galecki, Jim Parsons, Kaley Cuoco, Simon Helberg, Kunal Nayyar, Mayim Bialik, and Melissa Rauch. Over the past year, the cast and creators have spoken about the show potentially wrapping up.
In March, Cuoco said, "I actually can't, to be honest," and added "I can't really picture it. And I don't think there really will be my life without it — I think it'll always be there, I think it'll always be running, I think we'll always have those fans. It's always going to be a part of me."
"We spent thousands of days, literally, in the same room together as a unit, as a family. So to not wake up and not have that to go to [work] is going to be very jarring, I'm sure," Galecki, who plays Leonard in the series, said in the same month.
Nayyar, who plays Raj, added that he hoped the finale would involve a light-hearted scene with the main characters sitting together "eating Chinese food" and "talking nonsense in the end."
The comedy's fans were devastated by the news and took to social media platforms to express their joint disappointment. The final season of "The Big Bang Theory" will premiere on September 24 at 8 p.m. ET on CBS.
Please fill in your e-mail so we can share with you our top stories!