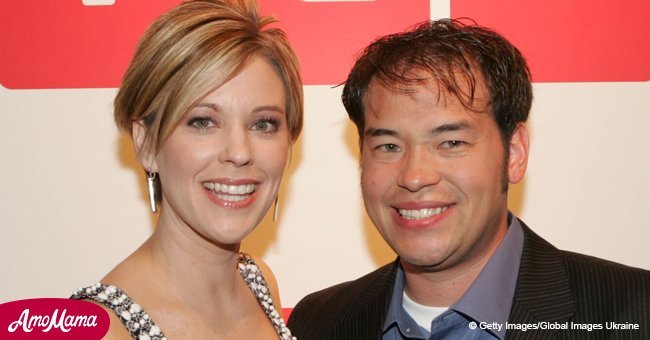 Kate Gosselin gets full guardianship of all 8 children despite custody fight

Kate Gosselin's children are all still in her full custody regardless of Jon Gosselin's claim that Hannah lives with him full-time.
People confirmed that despite rumors to the contrary, all eight of the Gosselin kids are living with their 41-year-old mom, Kate. The kids comprise six sextuplets and two older twin girls.
Jon confused followers when he claimed in an Instagram Live video chat, captured by RadarOnline that Hannah, 14, "permanently lives with [him]."
Follow us on Twitter for more @amomama_usa.
Jon and Kate finalized their divorce back in 2009. Since then, the couple's differences have propelled them into the headlines numerous times.
Jon's DJing career seemed to take precedence in his life, although he has consistently been battling ex-wife Kate for custody of their children.
Mady and Cara, the two older twins, said that they weren't communicating with their father when Jon opted to speak to the media on their strained relationship back in 2016.
Mady said, "He makes it seem like we're being kept from him, which is insane." She suggested that her father "should maybe spend some time thinking about why we don't want to see him," and not go to the media to talk about it.
Things have improved since then. Jon wished his kids happy birthday in October of last year. And recently, he has been spending time with Hannah.
That included spending a Father's Day weekend together, celebrating her 14th birthday, and visiting brother Collin, who is attending a special needs program for kids.
All this may have made Jon's claim about having custody of Hannah more believable until People looked into it. For now, Jon is allowed partial physical custody of his children.
Meanwhile, Kate is moving on with talks of a new show, "Kate Plus Date," that is soon to come to TLC. Kate described her motivation behind the idea:
"I started picturing myself sitting in a rocking chair, knitting, and words like 'old maid' and 'spinster' started to come to mind, and I realized that no, I don't want that to be my fate."
While she knows that her life still has a lot of drama, she says that she won't be held back and that she's "open."
She described her possible future partner as "someone with a set career" and who has "their own life, their own agenda, who knows who they are."
"If someone travels for work, that would be great, because I'm used to being on my own and being self-sufficient."
The show currently has no official premiere date but should be coming to television Fall 2018.
Please fill in your e-mail so we can share with you our top stories!