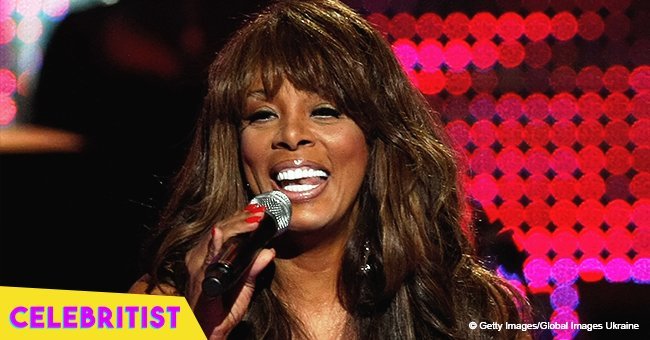 Remember '70s singer Donna Summer? Her actress daughter is the spitting image of mother

The "Queen of Disco," Donna Summer was one of the musicians that rocked the late 70s and even after her death, continues to be credited for her enduring legacy in the dance music genre. One of her daughters, Brooklyn, is now a successful actress and shared what it was like growing up with a famous mother.
Brooklyn Sudano, 36, told New York Post that contrary to what many people assumed of children with celebrity parents, she and her sister grew up getting their hands dirty. As she recalled, their parents put them to work whenever the family was on tour.
She and her younger sister, Amanda, were made to handle chores such as steaming the band's clothes, and according to her:
"We had a few summers where we did that. Our parents wanted us to have an understanding of what it was like to put on a production."
The "Taken" actress revealed that there was no question of being star-struck because the Dance queen was first their mother before anything else:
"For my sisters and I, [Summer] was mom first and foremost. At the end of the day, we're a family and that was always a highlight and everything else was secondary."
There is no doubt that Summer's family was a close-knit one. Reminiscing last year, on the fifth anniversary of her death, Summer's ex-husband, Bruce Sudano, who is also a singer, said:
"I think the feelings of regret that I have now are the things that are happening that I wish she could see now - when there's another grandchild born and yesterday my daughter Brooklyn is on a big TV show called 'Taken' and yesterday she got word that it had been picked up for a second season - it's those kind of things that I wish Donna was here for."
"But for the 30-plus years that we were together we lived it to the full and had great experiences and raised three great kids, travelled the world and sang for kings and paupers, so it's all good."
Summer breathed her last on May 17, 2012, at her Naples, Florida home. She was aged 63 and is survived by her ex-husband and three daughters- Mimi, from her previous marriage to Austrian actor, Helmuth Sommer; and Brooklyn and Amanda with Bruce.
Please fill in your e-mail so we can share with you our top stories!