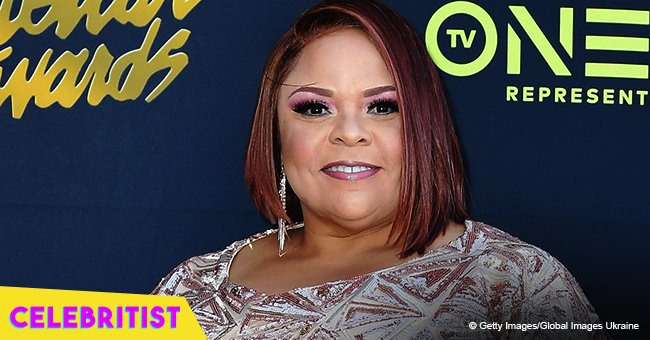 Tamela Mann shows off slimmer body in sleeveless red top & distressed jeans
Tamela Mann recently celebrated her 52nd birthday, and she's looking better than ever. The gospel singer also marked another milestone earlier this year, when she celebrated her 30th wedding anniversary with husband, David Mann.
The Manns' have been enjoying of a massive rise in their popularity in the past years, not only for their talent on stage but also for the reality show in which they get to share bits of their family life with the fans.
Tamela, who has made some changes in her lifestyle in the past years, is rocking a much slimmer these days. Fans were impressed with the singer's youthful vibe and figure in a photo posted to the Instagram she shares with her husband a few weeks ago.
In the pic, Tamela is rocking a trendy sleeveless red top with some graphics, ripped jeans and matching red sneakers as she stroke a pose to the camera smiling confidently. In her husband's words: "52 never look so good," and fans completely agreed with that statement.
One user wrote "Looking like you are going to college! You look amazing @davidandtamela," another added "Looking all juicy and sexy. Gone Mrs. Mann your looking Gorgeous wearing that 52 very well," and a third one agreed "that looks like somebody got it backward. Nah that's 25 years old."
In a video recorded by David back in June, on Tamela's actual birthday, the besotted husband gushed about his gorgeous wife following her around with his camera as she rocked a black evening gown. Mann couldn't stop complimenting Tamera, and she was flattered by the attention as she walked down to her ride.
The adorable couple has been together for 30 years now, and speaking to Madame Noire about their secret for a long lasting marriage, they agreed that keeping work and their personal life separated has helped a lot.
"The way that we keep our personal and professional lives together is that we don't mix the two. When we're at work, we're at work. When we're at home, we're at home. And see, we never try to balance our marriage, our personal lives, our relationship, we never try to balance it with this entertainment business because we're not going to give anything the same weight as our marriage or our relationship. None. Doesn't compare."
They also stated that many couples lose the "burning fire" they have going on at the beginning of their relationship once they get married. "You have to keep that fire burning throughout the marriage," David said.
Back then when they tied the knot, David and Tamela didn't have the means to celebrate their dream wedding. That's why they decided to go all out with the celebration of their 30th anniversary, as they hosted a lavish party with family and friends at the at the Joule Hotel in Dallas.
Tamela said:
"We wanted a fairytale wedding, so we picked an enchanted forest theme. We hosted everyone at the Joule Hotel because it had the feel we were trying to create — old-world romantic, beautiful, chic and lush — and a place everyone would love. And it had space for a dance floor, which if you know David, was something we had to have!"
The Mann family is currently touring around the country with some of their kids.
Their show, which showcases each member of the family biggest talents, includes a set by DJ David Mann, Jr., while Tia Mann performs new music. There's also a comedy set by David, a full gospel concert by Tamela, and a unique sit-down with David and Tamela where they talk about their new book, "Us Against The World: Our Secrets To Love, Marriage & Family."
Please fill in your e-mail so we can share with you our top stories!