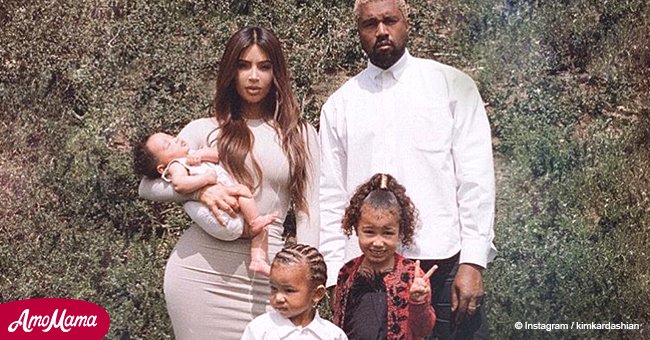 US Weekly: Kardashian-West family knows sex of their as-yet nonexistent child

Kim Kardashian and Kanye West have three beautiful children: North, 5, Saint, 2, and Chicago, 7 months.
But it seems that the celebrity and the rapper are planning to enlarge his family, various sources told the American media US Weekly.
Just seven months after the birth of Chicago West, the couple would have everything arranged to order the fourth child, according to the US Weekly website.
According to the informant of the aforementioned portal, the couple would still have an embryo on the way. "They have one last embryo left," whose sex is male, said the source.
The star of the Kardashian clan, 37, and the Grammy winner, 41, would be thinking about implanting this embryo in a gestational carrier, says US Weekly. Read more on our Twitter account @amomama_usa.
Kim and Kanye had already resorted to that technique to have their daughter Chicago, an alternative they opted for due to the previous high-risk pregnancies of the reality star, the magazine recalled.
"The doctors said it was not safe for my health or my baby's. After exploring many options, Kanye and I decided to use a gestational carrier," Kim Kardashian wrote on his website in January, three days after Chicago was born.
"Although I have used the term 'surrogate' in the past, a 'gestational carrier' is actually the technical term for a woman who has a baby with whom she has no biological relationship.
A traditional surrogate mother donates her egg, is artificially inseminated with the father's sperm and then carries the baby to term.
Since we implanted my fertilized egg in our gestational carrier, our baby is biologically mine and Kanye's," Kim Kardashian added in his publication.
So far it is unknown who would be the mother who would carry in his womb the fourth child of the couple, but something is certain, that both Kim Kardashian and Kanye West dream of a large family.
However, a fourth child would be his limit.
"I think I could not control more than that. My time is very short and I think it is important that, in all couples, the woman gives her husband as much attention as her children," she said a few months ago.
Please fill in your e-mail so we can share with you our top stories!