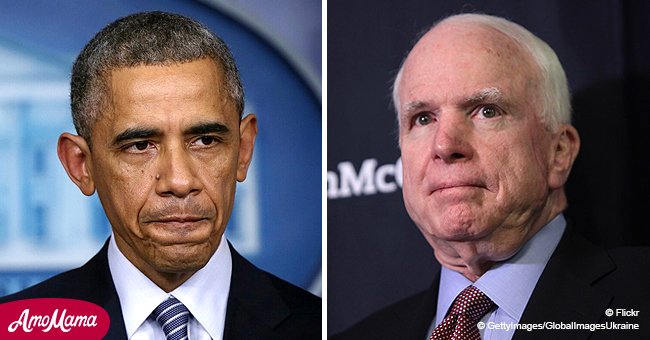 Former President Barack Obama reacts to John McCain's death

Former President Barack Obama couldn't stay indifferent to Senator John McCain's death and paid him a heartfelt tribute.
McCain drew his last breath on Saturday evening, August 25, 2018, at the age of 81, after a long battle with glioblastoma, a rare and particularly aggressive brain cancer.
Obama took to his Facebook account to remember the man that McCain was and his loyalty to the United States, working day in and day out to make the country a better place.
Although they had their difference, both had quite a lot of respect for each other and shared a fidelity for 'the ideals for which generations of Americans and immigrants alive fought, marched and sacrificed.'
Please follow us on our Twitter account @amomama_usa to learn more.
A HEARTFELT TRIBUTE
"We saw our political battles, even, as a privilege, something noble, an opportunity to serve as stewards of those high ideals at home, and to advance them around the world."
Barack Obama, Facebook, August 25, 2018
The former President of the United States wrote that, even though they were adversaries in many aspects, they both saw the U.S as a place where anything was possible and that it was their 'patriotic obligation' to ensure that it remained that way forever.
Aside from their differences and similarities, Obama mentioned the several obstacles that McCain had to overcome throughout his life, especially in the military.
MCCAIN'S DISPLAY OF COURAGE
His past as a prisoner of war in Vietnam was brought up by Obama and used as an example of the late 81-year-old's bravery and fearless attitude towards adversity.
"Few of us have been tested the way John once was, or required to show the kind of courage that he did. But all of us can aspire to the courage to put the greater good above our own. At John's best, he showed us what that means. And for that, we are all in his debt."
Barack Obama, Facebook, August 25, 2018
MCCAIN DEFENDED OBAMA
Proof of the respect both men had for each other can be found online; recently, people have started sharing a video in which McCain stood up for Obama during a 2008 rally.
In the clip, an unidentified woman can be heard saying that she didn't trust Obama because he was 'an Arab,' to which McCain replied by saying that he was not an Arab, rather a 'decent family man.'
Please fill in your e-mail so we can share with you our top stories!