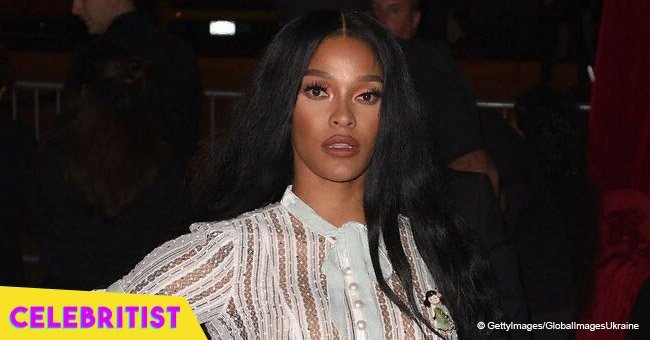 Joseline Hernandez shared photos of daughter, sparking debate on her similarity to Stevie J
Bonnie Bella, Joseline Hernandez's daughter, has taken front and center on her social media accounts. While fans are now used to see pictures of the little girl, there was one specific look of Bella that sparked a debate on whether she looks more like her father or Joseline.
American reality television personality, rapper, and actress Joseline Hernandez, who was once part of the leading cast of the VH1 reality series "Love & Hip Hop: Atlanta" regularly takes to Instagram to share cute photos of her child, Bonnie Bella.
Bonnie Bella is the love child from her relationship with former co-star and music producer Stevie J. The ex-couple met in 2011 but separated in 2016, and their daughter was born in December of that year.
Since the Puerto Rican princess moved to Miami with her baby girl, she has taken social media by storm with cute pictures of Bonnie Bella, sometimes rocking a matching outfit with her curvaceous mom. However, one photo posted to Joseline's Instagram a few months ago sparked an interesting conversation among fans.
In the pic, Bella is wearing a cute red dress, black pants and shoes, a red and white jacket and a black and white scarf with stars printed on it. Bonnie doesn't look amused in the picture, staring straight to the camera with a serious face.
Fans immediately took Bonnie's expression in the photo as the perfect cue to start comparing the girl to her parents. Most fans seemed to agree she looks more like her dad, but others defended Joseline's genes stating that once Bella grows up, she'll be her mom's copy.
User @call_me.amarejay wrote "She is the spitting image of Stevie," while @italian_love33 added "Most of the time she looks just like her daddy but this pic right here I see her mama! That face lol The attitude the diva," and @nia2821 said "adorable.. omg she has so much to say. She deff her daddy child.. looks Exactly like him.. actually she looks like her mama too. BEAUTIFUL."
Bonnie is Hernandez's first child but Stevie J's sixth. After quitting to her spot on "Love & Hip Hop: Atlanta," Joseline revealed that her child made her reflect on her past and how she wished she could change a lot of things.
In a since-deleted Instagram post, Hernandez penned a beautiful and heartfelt letter to her daughter saying:
"Before you were here I've made a lot of mistakes publicly and I am sorry that you may one day be exposed to those mistakes. I apologize to everyone that I may have hurt during those dark moments in my life. I promise that I'm growing into a better woman each day I have you in my life!"
Joseline is currently gearing up to start shooting her new reality show, "Joseline Takes Miami," which will follow her journey to record her new album while taking care of her adorable little girl.
Please fill in your e-mail so we can share with you our top stories!