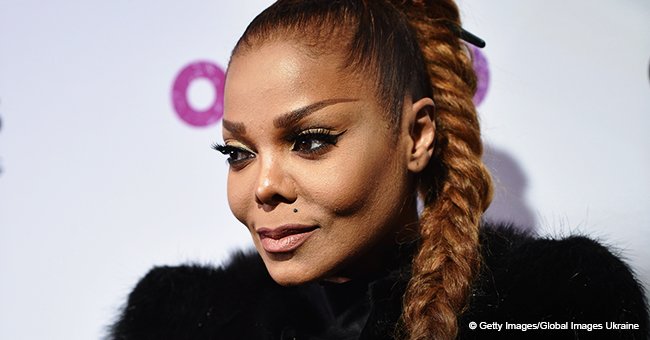 Janet Jackson gets ridiculed for her 'dust mop' hair in pics from 'Black Girls Rock' award show

Janet Jackson is a head turner during her latest red carpet appearance where she not only rocks an elegant gown but draws unwanted attention to her never-before-seen hairstyle. Fans referred to several objects to describe her interesting do including a "dust mop."
Janet Jackson was recently honored with an award at the 2018 "Black Girls Rock" awards show and she welcomed the honor with an unforgettable red carpet appearance. The singer's elaborate lace dress was a scene stealer in itself but her unusual hairstyle drew even more attention.
It's a pretty good year for Janet Jackson who had just released her first music video in three years and is nearing the finale of the second leg of her 'State of the World Tour." And just as she celebrates her still-flourishing career, she was recently awarded the rock star award at the 2018 'Black Girls Rock" awards for being a "phenomenal woman in music."
Making an impact during her appearance during the awards night held this weekend, Janet showcased her unique style at the red carpet wearing a navy blue Christian Siriano creation with a sheer floral black overlay. She looked every inch a regal as her dress flowed way beyond her feet and accentuated her neck with a high collar.
It was the singer's unusual hairstyle though that stole the scene. Though she'd often sport a sleek high ponytail, she decided to give the high pony a twist by letting it stand stiffly in small curls above her head. Almost appearing bald with the tightness of her do, the singer also drew flak for the the protruding hair on her head which fans compared to "a dust mop."
In the comments section of The Shade Room which posted Janet's red carpet images, fans criticized the iconic singer's hairstyle in so many ways.
"That's where my duster went."
"Her dress is nice, I don't know why on earth she'd wanna do her hair like that"
"Looks like a [eggplant emoji]on top of her head....l will be so glad when they bury this hairstyle."
"Her hair looks like the brush you clean the baby's bottles with"
Last month, Janet also drew negative attention to herself when she channeled a kooky look for the filming of her music video. She wore an eclectic mix of colors and designs complete with a checkered mullet hem skirt worn over a pair of ripped jeans. She also fashioned a top knot with a long braid highlighted by a green scarf. She completed her busy ensemble with yellow boots and a purple choker. Though her look was purely for aesthetic purposes as required of her video, fans condemned it for making the singer look like a clown. However, Janet isn't one to be affected by such comments. She's always managed to reinvent herself with unique wardrobe choices and hairstyles making her latest red carpet appearance totally acceptable for a singer with her brand of fashion.
Please fill in your e-mail so we can share with you our top stories!