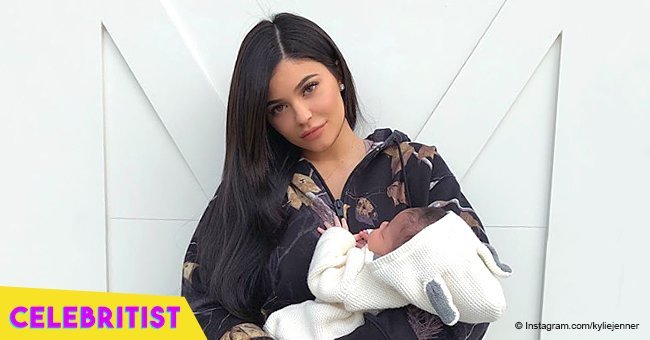 Kylie Jenner's 6-month-old daughter melts hearts while washing her hands in sink in cute video

It's never too early to learn some personal hygiene, and little Stormi Webster is making sure to get in some lessons at only six-month-old. The adorable tot was held by her mother's best friend, Jordyn Woods, as she washed her tiny hands at the sink.
Kylie Jenner updated her social media followers on Saturday with Stormi's latest lesson, and it was all shades of cute. The six-month-old was held over the kitchen sink by Woods, and she looked pretty occupied with the water streaming out of the faucet.
Sporting two tiny cornrows, Stormi rinsed her teeny hands as her business mogul mother spoke in the background.
Jenner, who welcomed Stormi at the age of 20, appears to be sincerely delighted with motherhood. Speculations were that the "Keeping Up With The Kardashians" star would be too young and too flashy to take care of a baby, but Jenner is proving non-fans wrong.
For starters, the young mom took time off social media when she found out she was expecting last year. That might not be a big deal for any other mom-to-be, but for Jenner, whose brand is promoted mostly through raunchy selfies and near-perfect Instagram photos, it was a huge deal.
In a recent interview with ES Magazine, she revealed that despite the challenges of getting used to being a mom, it was a fun experience for her:
"It's actually been the opposite for me. I feel like it's just been so amazing, and so much fun. I'm learning so much more about myself and life, and it's been such a great experience."
The "Kylie Cosmetics" founder, who shares Stormi with her boyfriend, rapper, Travis Scott, trashed the widespread perception of her as a self-absorbed young adult by confessing that she thinks of Stormi all the time, even when on business trips:
"I think more about the future because of her. Every time I leave and I'm stressed about leaving her, I'm like, 'I'm doing it for you.' …You're less selfish — and I actually enjoy changing diapers. It's really satisfying. To make her clean again. And I don't know, the whole thing is really… it's like such an amazing experience."
But Jenner, 21, is not the only one having fun being a parent. Scott was also pictured recently enjoying some daddy-daughter time with Stormi who was all smiles in her daddy's arms.
Please fill in your e-mail so we can share with you our top stories!