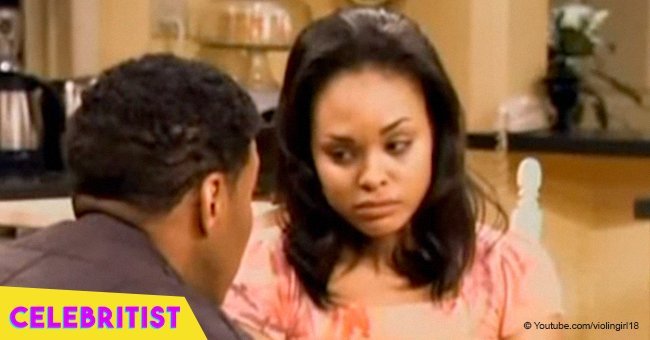 Remember Janine from 'House of Payne'? She's now 38 & stuns in strapless jumpsuit in recent video

Demetria McKinney, known to most of us as the drug addict-turned-career woman in "House of Payne," put her enviable curves on display as she served a series of poses in a new video. She turns 38 today, but McKinney can easily pass for someone younger.
McKinney posed up a storm as the camera captured all her angles in a 360-degree maneuver. She stood against a backdrop of "Black Music Honors" and stunned in a strapless black jumpsuit that hugged her curves just right.
Palming a black clutch, the actress who plays "Tamara Calloway" in "Saints & Sinners," displayed her playful personality in the video, sticking out her tongue and flipping her side-swept curls at various times during the recording.
HOW DOES SHE DO IT ALL?
Despite her busy schedule as a singer and an actress, plus the fact that she's also a single mom-of-one, McKinney recognizes the importance of striking a balance:
In a 2017 interview with Chicago Defender, while she was on a musical tour, the "Superstition" actress advised:
"It's funny; it's just a testament to what's for you in God's time. It's also about not being upset or stressed out about stuff—it's human. But you got to kind of let things go."
WHAT DID MCKINNEY LEARN FROM MUSIC LEGEND, MICHAEL JACKSON?
Speaking further about how she maintains an equilibrium between her career and personal life, McKinney explained:
"I would really love to take this wig off and sit [sic] it on the headrest as if it were my bestie. …But those moments where I used to be able to of walk out looking any kind of way, being any kind of way and acting silly in public, I have to be aware of this. To understand there's consequences, and everything that comes with fame comes with a consequence. There is no way around it. Michael Jackson led a very private life for a reason. Beyoncé is private about her life for a reason because you still want to shield those things that are super important to you."
And the "Easy" singer does know what she's talking about. She has successfully kept her 19-year-old son away from public scrutiny, rarely posting photos and videos of him on social media.
WHAT DOES SHE SHARE WITH THE WORLD?
Privacy nonetheless, McKinney has always been open about the struggles that trailed her path to success in a bid to encourage her fans and other young girls. From being sexually harassed by her stepfather to being homeless and physically abused by a boyfriend, the "Bobbi Kristina" star knows what it is to persevere and overcome.
With her reprisal of "Janine" in "The Paynes," her roles in other productions, and the take-off of her music career, the sky is only the starting point for Demetria McKinney.
Happy birthday McKinney!
Please fill in your e-mail so we can share with you our top stories!