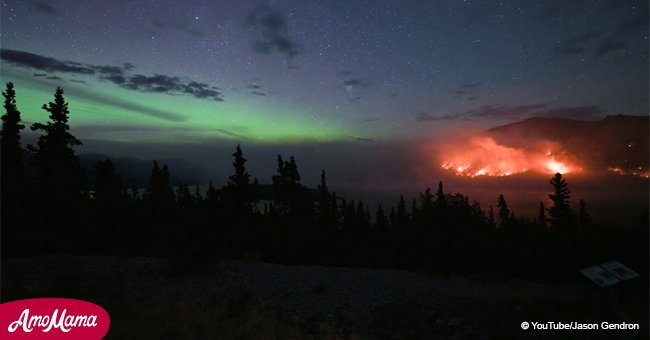 Incredible footage captured of the northern lights dancing over forest wildfires

Yukon forest fires blazed into the night sky to create a stunning visual phenomenon with the Northern Lights of the Yukon mountains of Canada.
A wildfire that started from an abandoned campfire spread into an area of 24,000 hectares last week. The fire was never a serious threat to surrounding communities as they are located quite a distance away.
Still, warnings were sent out to the population near the Robert Campbell Highway due to the wind and smoke activity. Evacuation orders were given to Telegraph Creek.
According to the Daily Mail, a video of the fire was recorded by mountain hiker Jason Gendron. In it, viewers see the wildfire raging in the Windy Arm mountains as the Northern Lights swirl above.
Follow us on Twitter for more @amomama_usa.
The result of the two forces of nature appearing together is absolutely mesmerizing. The purple star-lit sky features the green aurora lights above the bright red smoke of the wildfires.
The jaw-dropping scene was filmed from across Lake Tagish during Tuesday night. The boughs of the trees undercut the colorful sights of the aurora and the fierce fires.
The video was uploaded as a time-lapse and has garnered almost 3,000 views.
Source: Facebook/ ABC News
Back in early August, a fire tornado threatened the Ravensbourne Plastics factory in Derbyshire UK. Dubbed a "firenado" by local residents, the orange whirl stood amid a blazing fire.
The sight was a thing to behold, but it took more than ten fire engines to put out the destructive fire. Thankfully, no one was injured although thousands of plastic items were destroyed.
Source: YouTube
In June 2018, an intriguing event occurred after the Kilauea volcano in Hawaii exploded. Many were displaced as a result of the explosion which actually happened in May
But a month later, blue flames appeared within the lava, leading many to awe as well as confusion. It resulted when methane from the burning lava combined with the heat of the molten rock. The blue methane then broke through the cooled lava to the surface.
Please fill in your e-mail so we can share with you our top stories!