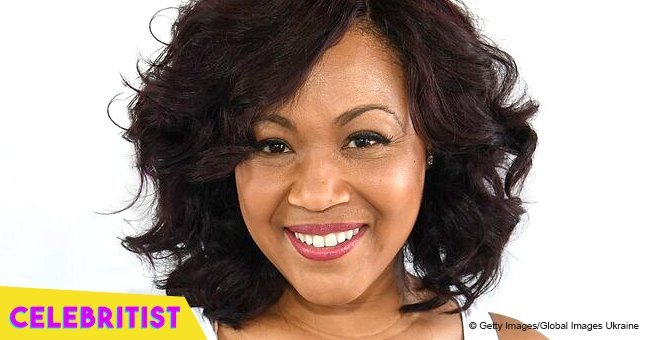 Erica Campbell and daughter Krista are all smiles in recent picture after colorism revelation

Erica Campbell, the one-half of the famous singing duo, "Mary, Mary" shared a picture with her lovely daughter Krista. Her fans were full of admiration for the young girl who has been the target of bullies harassing her for the color of her skin.
In the photo shared by Erica, she and Krista huddled close for a cute selfie. The Gospel artiste rocked trendy cornrows while her daughter's curls were styled in a top-knot with bangs. In another selfie, mother and daughter played around with floral filters as they served up their best pouts for the 'Gram.
Fans of the "Well Done" singer took to her comment section to leave words of admiration for both ladies, but most of the comments focused on Krista's beauty. Instagram user @rosie0208 gushed:
"Wow your daughter is so beautiful. Her eyes smile as well. She is just simply beautiful."
Another fan, @divaworksbychandra went as far as sending up a prayer on Krista's behalf:
"Lord make sure this amazing young lady always knows how beautiful she is IN THE SKIN THAT SHE IS IN!!! #ChocRox"
Krista had earlier opened up about the bullying she faced at school because of her dark skin. She told her family about one time in fifth grade when a group of students refused to play with her because, according to them, "we don't want no darkies."
In another discussion recorded on the family's reality show "We're The Campbells," the young lady asked her mother if she was ugly because of her dark skin.
She explained how guys preferred light-skinned women to dark-skinned and told Erica, "You're light-skinned, so you don't really know exactly how it feels."
The realization left Erica emotional as she struggled to assure Krista of her beauty. But Krista's struggles with colorism have now proven motivational for other children.
One fan left a comment on Erica's photo, thanking the family for being an inspiration:
"Omg Krista is gorgeous listen you look exactly or close to my baby girl and she struggles with her weight and her skin complexion but after seeing you on the reality show it made her become a whole new person she's confident and head strong thank you @imericacampbell. And @warryncampbell. For all your inspiration"- @prettyboy_boutdatlyfe
Go, Krista!
Please fill in your e-mail so we can share with you our top stories!