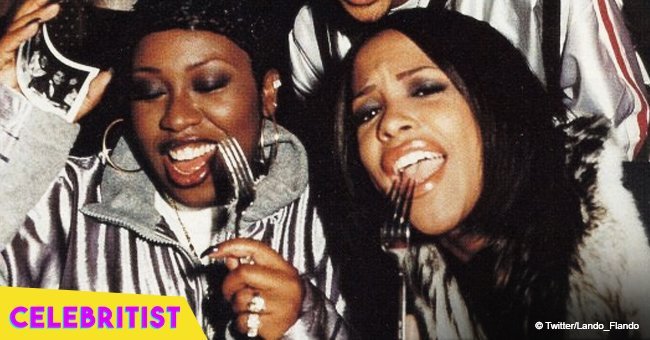 Missy Elliott shares emotional tribute video to Aaliyah on 17th anniversary of singer's death
August 25 made it 17 years since singer Aaliyah, died in a plane crash, and one of her close friends and collaborators, Missy Elliott, took to Twitter to share a touching tribute video.
The video showed Elliott penning a letter to the late Aaliyah. It read:
"Aaliyah we miss you so much, but your legacy will live on forever and ever!"
The camera then pans over to a stack of clothes embellished with the "Age Ain't Nothing but a Number" singer's face and name.
Elliott was one of the musicians who worked with Aaliyah before her death. Along with Timbaland, the rapper collaborated with Aaliyah on her second album in 1996.
The "Get Ur Freak On" hitmaker accompanied her tribute video with a heartfelt caption:
"Aaliyah (Babygirl) I can only imagine how great you would be today winning Oscars & creating sick music & still setting fashion trends! Your mom & brother @RAD_6 & your fans been holding it down 4 u you will always be A One in A Million sleep peacefully angel Babygirl"
Aaliyah died at the age of 22 in a plane crash. She and her crew had just wrapped up filming for the video of "Rock the Boat" and were on their way to Florida when the unfortunate incident occurred. Reportedly, the group had been eager to get back to Florida and opted for an earlier flight on a smaller plane.
It wasn't until recently that a couple of details were revealed concerning the accident. Not only did the plane exceed its maximum takeoff weight, but the pilot also had traces of illegal substances in his stomach and bloodstream. Moreso, he did not obtain authorization to fly the plane that fateful day.
In an interview with "The Real" earlier this year, Damon Dash, who was dating Aaliyah at the time of her death, insisted that she would have been alive had he been with her in the Caribbean:
"There is no chance that, if I was there, we would have been on that plane. …So it would have never happened that way."
Please fill in your e-mail so we can share with you our top stories!