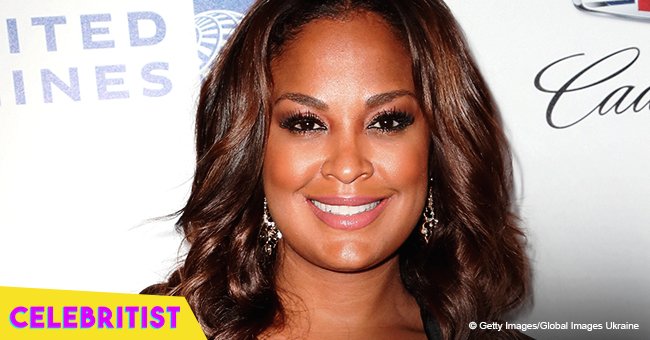 Laila Ali shows off her '200 pounds' in figure-hugging black dress after weight gain
Laila Ali is the daughter of the legendary boxer Muhammad Ali, and while is not that usual to see women on the sport, she followed her dad's steps and became a champion for her own merits. Now, a mother of two, Laila is looking better than ever as she inspires women of all ages to accept and love themselves.
Laila Ali has been in the public eye since she was a little girl. After all, being related to one of the most iconic boxing champions of our age has its prize. However, Ali was never shy in front of the cameras, and to everyone's surprise, she decided to follow Muhammad's steps into boxing.
She retired in 2007, and now, a wife and mother of two young kids, Laila has turned her passion for health, wellness and fitness into a way to help others while sustaining herself and her family.
The 40-year-old is now a published author, TV host, motivational speaker, and cooking enthusiast. While she has confessed that she still focus on her weight, Laila has earned a few pounds in the last month. The reason, as she said in an interview with HealthyIsh, must be that she's no longer putting restrictions into her diet.
Ali looks incredible with her "200 pounds," as she posted a picture on Instagram looking sexier and confident, rocking a tight figure-hugging, off-the-shoulder black dress. Laila posed with a hand on her waist as she looked at something ahead, giving her profile side to the camera.
"Don't think I'm not working this 200 pounds until I'm back down to my usual 185," she captioned the pic. Fans immediately flocked her comment section with praises and encouraging words.
One user wrote "Lawd! If that's how 200 looks on you, stay right there," another added "IT LOOKS GOOD ON YOU. I wouldn't have guessed 200 lbs. You look 170 the most," and a third one took their time to write:
"You are the epitome of perfect! Your rawness and true love for life and being healthy inspire me to push harder! Thank you for all that you do to uplift women and bring power within."
FROM BOXING TO MOTHERHOOD
Laila Ali married former NFL player Curtis Conway 11 years ago. They share son Curtis Muhammad, 9 and daughter Sydney Jurldine, 7.
Training to be an undefeated boxing champion for so many years, Laila learned a lot about nutrition and her body. "I was used to eating on a schedule and used to thinking about how this food is gonna affect my body and fuel my body," she said. Now, Ali is more focused on watching her kids grow strong and healthy. She eats whenever she wants but maintains a workout routine to make sure everything stays in its place.
"That drive is always in me to get that hard workout in," she said. "I have had girlfriends say, 'Hey, you wanna go walking?' And I'm just not interested. I'm like 'Uh, no, I'm good.' But they keep inviting me!"
Instead, Ali says she prefers a HIIT workout on her Peloton bike. She said:
"As a boxer, working out was my job. I'd run in the morning. I would go to the gym in the afternoon to box, which is, like, grueling. Then I would weight train three or four times a week. Now, I don't have that lifestyle. When I work out, I'll do high-intensity workouts but for shorter periods of time, and I'm always switching it up."
DEALING WITH CHALLENGES OUTSIDE THE RING
Speaking to A Plus, Laila revealed that when she retired from boxing back in 2007, she fell into a depressive state, for lack of a better word. She didn't know what to do with her life, but finding what she was passionate about outside the ring was her way of dealing with the situation.
"I love encouraging people to be the best they can be […] being the best that you can be, taking care of yourself, and being proactive — because that's what we have to do in every area of our life. You can't wait [anyone] to do anything for you. You have to do it for yourself."
Laila has become an example for many women out there who are striving to become their better selves and be good mothers, wives, and hardworking individuals. She's her father's daughter for sure.
Please fill in your e-mail so we can share with you our top stories!