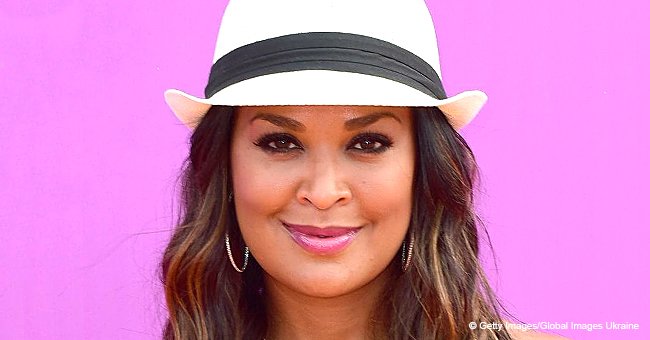 Laila Ali and Curtis Conway are all smiles in recent pic after celebrating 11 years of marriage

Four-time undefeated boxing world champion Laila Ali and her husband, former NFL player Curtis Conway, look happier than ever in recent pic shared to Ali's social media after they celebrated a significant milestone in their lives.
Laila, who's the daughter of the legendary boxer Muhammad Ali, recently took to her Instagram to share an adorable selfie with Conway right before she cooked a meal for him. The 40-year-old looked stunning wearing a white t-shirt and smiling brightly to the camera, while Curtis wore a grey graphic shirt and a black baseball cap.
"Me and my honey...I'm about to make him something super yummy for dinner just because!#lailaalilifestyle," she captioned the pic.
Fans took to the comment section to share their thoughts about the lovely shot. One user wrote "My favorite couple, Keep grinding you two," and another added, "Relationship Goals! #Respect, Friendship, Loyalty, Faithfulness, Family, Fun, Black" [sic]
The couple that tied the knot back in 2007 celebrated their 11th anniversary a few days ago. Laila shared a gorgeous photo of the couple looking classy in their best outfits and wrote a heartfelt message to gush about her husband and all the qualities that make him the love of her life.
She wrote:
"Today I am celebrating my 11 year anniversary with my husband @curtisconway. I am grateful for the unconditional love that we have for one another; his love feels like that of a husband, friend, brother and father all wrapped in one. He's always looking out for my best interest & pushes me to be the best version of myself...and I wouldn't ask for anything more! NOTHING BUT REAL LOVE!"
The couple has expanded their family with two kids, on Curtis Muhammad, 9 and daughter Sydney Jurldine, 7. Speaking to E! News on the red carpet of the ESPY Awards last month, Laila revealed that she despite everything she and Curtis have going on, they don't have a nanny.
Laila, who grew up raised by one, admitted that she always wanted to be a hands-on mother, and to achieve that, her family follows a routine every day so they can make it work. Her husband, she said, is the best partner because he reminds her to take some time for herself amid the chaos.
"Keep the lines of communication open. We hear that all the time but it's really important that whenever you have something to say, that you feel a certain way, that you share it and don't let it fester."
She said of her secret to having a long lasting happy marriage.
Please fill in your e-mail so we can share with you our top stories!