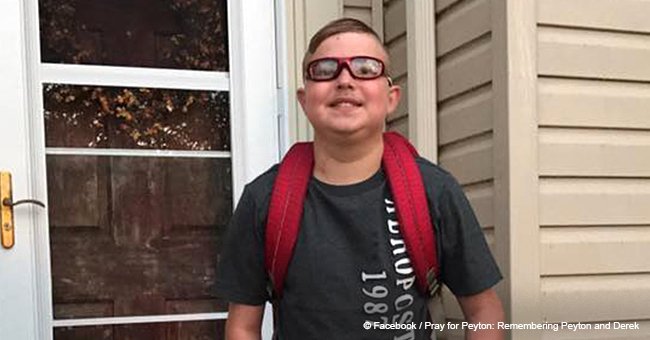 13-year-old who got new heart dies on first day of school
13-year-old Peyton West collapsed on his way to his first day back to school and died the following morning after recently having had a heart transplant.
West was born with hypoplastic left heart syndrome, which is a type of a heart defect that affects blood flow to the organ. His condition led him to have had three open-heart surgeries by the time he turned 5 years of age.
His father told local station WKRC that they could never know why their son was taken away from them but he believed that "God has a purpose."
"We don't understand it but we know God has a purpose and Peyton touched so many lives in just his short time here," he told the online source.
Follow us on Twitter to learn more.
Earlier in March, West received a life-saving heart transplant after doctors diagnosed signs of his heart beginning to fail. Following the transplant, he tested negative for any signs of rejection and his family was overjoyed.
However, he soon began showing a few warning signs. Despite his attempt at joking around and spreading smiles, West was beginning to feel a discomfort.
He developed a cough that lasted for three weeks and started remaining tired all the time. He would also sweat profusely for no apparent reason.
Then on the morning of August 16, the day he passed away, he woke up excited about going back to school for the year. However, he showed no signs of problems in doing his everyday chores.
"He went to bed, no problems. He woke up, no problems, being his goofy self," his father explained WKRC.
Goshen Middle School held a memorial for Peyton that evening and students and teachers joined hands to commemorate his death.
The doctors are still unsure about the exact causes of the failure of Peyton's heart. An autopsy was yet to be done to determine the actual cause of death.
Back in June, another boy was also found mysteriously dead after recently opening up about liking boys. His mother and her boyfriend were both charged with murder, torture, and assault to a minor.
Please fill in your e-mail so we can share with you our top stories!