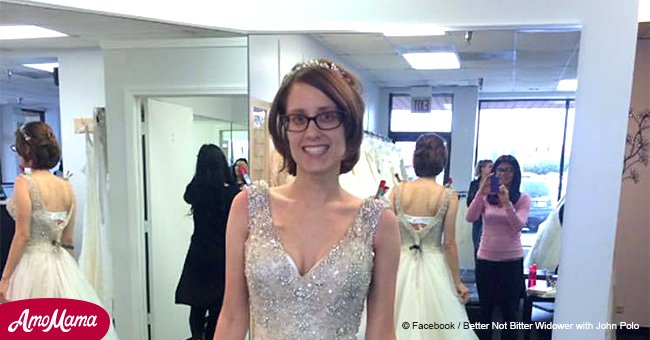 Man discovers photo of his late wife in the wedding dress he never got to see her in
John Polo and Michelle had planned a big wedding, but tragedy stuck two weeks before the wedding date when Michelle did not make it through the surgery she underwent to treat the rare form of cancer she had.
When the couple found out that she had cancer in July 2013, they immediately married in a courthouse, but the couple decided to have a bigger wedding when Michelle's cancer turned terminal three years later, in February 2016.
John took to his blog on Facebook and wrote an emotional post about how he felt when he found the picture of his wife in the wedding dress that she planned to wear at their second wedding ceremony and also shared the post.
Read more on our Twitter account @amomama_usa.
But he never had the chance to see her in that dress because she passed away on January 22, 2016, when she was 30 years old, a couple of weeks before their wedding.
In the picture, Michelle is standing wearing a wedding gown at a boutique. John spoke to People and said that his wife had wished he see her in the wedding dress only on the day of the ceremony.
He found the photograph of his wife a week after her death when he was shuffling through the photos on Michelle's phone. He was not aware that a picture of Michelle in her wedding dress even existed until he stumbled upon it on her phone.
"I was happy and devastated at the same time, but if I had to choose one emotion to describe how I felt when I saw it, it would be pride. I felt pride she was my wife."
John Polo, People, September 5, 2017.
The two, from Illinois, had first met in 2002 and dated for a year in high school before going their separate ways and losing contact. They got back together in 2010 and were engaged in 2012.
Michelle was diagnosed with proximal-type epithelioid sarcoma, a rare type of cancer in the kidney when she started complaining of severe back pain. The couple then tied the knot in a quick courthouse ceremony.
"We were married at the courthouse a few days before her first surgery was scheduled to take place. We rushed there. To become man and wife. Not knowing if she would make it out of the surgery alive," John wrote in his post.
Michelle went through the surgery, and the tumor was removed, but it returned three years later and spread to her lung, liver, tailbone, and ovary.
John said that becoming a part of the widow community, along with blogging and writing has helped him cope with the passing of his wife.
He said that the response he gets from people who read his blog goes a long way in his healing process and it also humbles him.
In related news, Amy Buchan Kavelaras shared a charming photo of her grandmother, Ruth. In the picture, the senior woman is seen standing in her old wedding dress.
Amy took to Facebook to post the picture of her grandmother and wrote in the post that she had posted the photo to share an even more beautiful message.
She had come across the dress when she was packing up her grandmother's belonging as she was being moved to an assisted living facility after a month.
Ruth married her husband and Amy's grandfather in the same dress 63 years ago, and it was a pleasant surprise for everyone when they saw that the dress still fit Ruth perfectly.
To capture the special moment and to also pay tribute to Ruth's special day, the family decided to take a picture of Ruth wearing the dress.
For Amy's grandmother Ruth, the dress reminded her of the love she shared with her husband Jack during their 43 years of marriage.
Please fill in your e-mail so we can share with you our top stories!