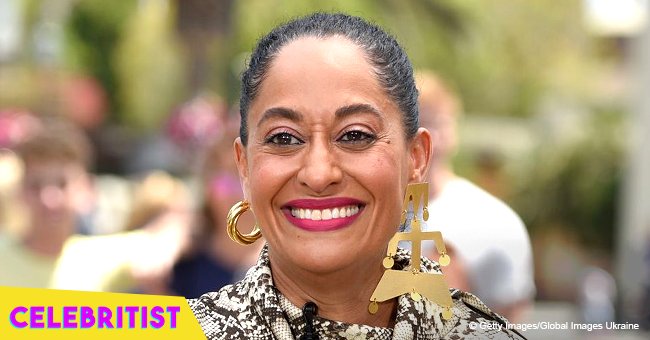 Tracee Ellis Ross shows off power vocals with 'Black-ish' co-star Jenifer Lewis in new video
Actress Tracee Ellis Ross, best known for "Black-ish," took to Instagram to share a video of herself singing and having a good time next to her co-star Jenifer Lewis.
The clip portrayed Lewis, who was wearing beige sandals, dark blue jeans, a black and white blouse, a thick red necklace, and a red bandana, explaining Tracee what to do, to say, and how to sing.
Tracee was wearing orange high-heels and a burgundy outfit that made her look very good. One of the most striking aspects of the video was that Diana Ross' daughter was using her braids like music instruments.
When the video began, Jenifer sang the lyrics of Aretha Franklin's "Rock Steady" and Tracee quickly followed her. Then, Jenifer sang again but Tracee was laughing and said her part a bit late.
By the third time Tracee was supposed to sing, she let it flow and did a very funny solo that ended up in Jenifer "slapping" her in the face three times to make her stop. Both women certainly had a great time together.
As soon as that recording was uploaded, the actresses' fans and followers took to the comment section to share their thoughts. One of them was Instagram user @joyfili, who pointed out that they loved both women's energy as it made them happy.
TRACEE SINGING NEXT TO HER MOTHER
That was not the first time Tracee has been seen singing as in 2015, she got onstage next to her mother Diana during her show at The Venetian Theater in Las Vegas, when they performed a rendition of Billie Holiday's "Lady Sings the Blues."
Tracee revealed that the last time Diana asked her to sing with her had been when the actress was about five or six years old. Tracee added that she thought her mother was asking for Evan, who is her singer brother, but Diana actually wanted her to get onstage.
HOW DID SHE FEEL ONSTAGE?
After that, the actress pointed out that she was not afraid as she doesn't let that feeling stop her from doing whatever she wants.
"But, somehow, by the time I stepped onto the stage it was as if I was 6 years old again! There's something about singing….. It's no joke trying to do that as the child of DIANA ROSS, let alone while standing by her side on stage," wrote Tracee in Facebook.
Please fill in your e-mail so we can share with you our top stories!