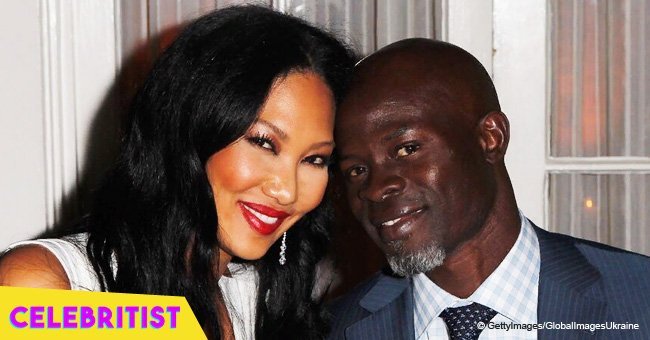 Djimon Hounsou and Kimora Lee Simmons' 9-year-old son is a copy of his dad
Djimon Hounsou took to social media to share an adorable photo of his son, Kenzo Lee. Kenzo Lee is the 9-year-old boy that the actor shares with Kimora Lee Simmons, and the little guy looks a lot like him.
Kenzo Lee is growing up to become a handsome young boy. The adorable boy is the product of Djimon's relationship with model and entrepreneur Kimora Lee Simmons. They started dating back in 2007 and two years later they had Kenzo Lee.
Simmons and Hounsou's relationship didn't last long: even though the couple went through a commitment ceremony back in 2008 at Hounsou's' native country, Benin, the couple never actually married. They separated in 2012, three years after the birth of their son.
At the time, Kimora Lee had two daughters, Ming Lee and Aoki Lee from her previous marriage to Russell Simmons, and when asked about the status of her relationship with the father of her kids, she said to the Daily Mail:
"Kids never go away from your life, and if you've been married, that person probably never goes away either. You never get rid of anyone and they never really get rid of you! I try to do everything from the viewpoint of what's best for my kids. I have three kids and two great dads and it's not always easy, but you have to try to be a little selfless and we manage just fine."
There's no denying that Kenzo looks a lot like his famous dad, and in recent pics shared to Instagram from a trip they took to Benin, in West Africa, fans were in awe of their resemblance. Djimon took Kenzo for a trip down memory lane, visiting his home and letting the boy connect with his African roots.
"On a dirt road where all the dreams started. #Team229 #VisiterLeBénin #Village #Home#KLH #KenzoLeeHounsou," he captioned a pic of the pair standing in the middle of a dirt road with a traditional mud house in the background.
Fans took to the comment section to praise Djimon and Kenzo. One user wrote "Honor our roots make us stronger persons and more beautiful! Well done!" and another added, "It's beautiful that Kenzo gets to experience where you've come from. I love that you're showing him his African Culture!"
Djimon is currently working on several films that will be released next year, among them "Captain Marvel," "Shazam!," and "Blazing Samurai."
Please fill in your e-mail so we can share with you our top stories!