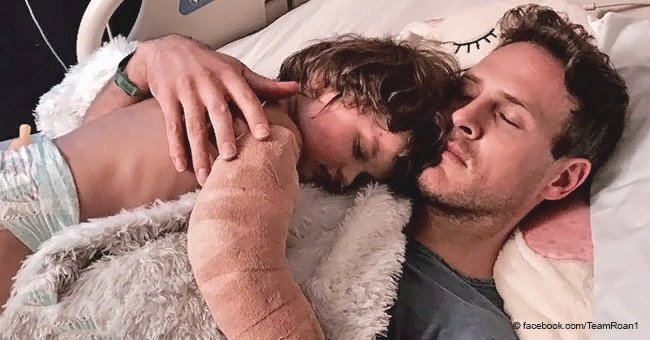 Father was cutting grass when he heard heartrending cries of 3-year-old son
July 24, 2017, is a date that the Sullivan family will never forget. That traumatic day happened one of the most shocking accidents of their lives.
The life of little Roan Sullivan, three years old, and his parents Sean and Melissa are finally returning to normal after the accident, CBS 6 reported.
One summer afternoon last year, the family enjoyed a warm day outside. Roan was riding on a lawn mower with his father, something they loved to do together.
After a while, Melissa took Roan's younger sister and led her into the house. Roan followed her. Sean said he thought that after entering the house, he would simply stay inside. He looked towards the house, thinking that he would see it if he left again.
But a few minutes later, something happened that they never imagined. While Melissa slept with Roan's sister, he ran outside and Sean did not see him. Read more on our Twitter account @amomama_usa
It was the only time he could have slipped by his father's side. He was right in the only place where Sean could not have seen him.
The boy left the family home and ran to the patio. Sean put his cutter in reverse and accidentally ran over his little son.
The parents heard a loud noise, followed by a scream that frightened them. Melissa assures that it is something that no father should ever witness.
Sean thought that the boy would lose his leg or his arm if he could survive. It was the most horrible moment of his life. Shocked, they took their son to the nearest hospital. There, Roan's condition worsened more and more.
The doctors at the hospital were able to stop the bleeding, but they did not have the right equipment to treat the trauma. His injuries were so severe that he had to be transferred.
He remained in intensive care for five weeks. The doctors had to amputate his right foot, but they saved his arm and right hand.
According to Newsner, the family wants to raise awareness among parents about the possible accidents that this type of mower can generate.
Fortunately, Roan is already recovering from this traumatic incident and every day he struggles with the best attitude, even though the accident almost ends his life.
His family thanked all those who helped their son on his way to recovery and said they still have a long way to go.
After the accident they created a GoFundMe account, to cover the expenses of the accident. More than a thousand people donated money to help them.
Please fill in your e-mail so we can share with you our top stories!