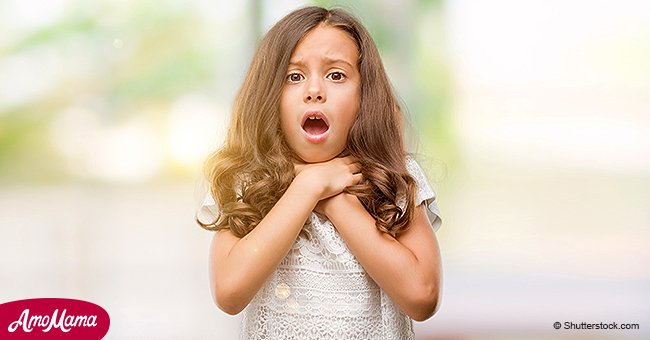 Sobering x-ray image shows the dangers of feeding whole grapes to your children

Angela Henderson, the author of "Finlee and Me," a popular parenting blog, shared an x-ray image of a grape lodged in a 5-year-old's throat.
The purpose of the picture, according to the blogger, was to raise awareness for the dangers that grapes and other small foods represent when it comes to choking.
The x-ray was posted on Finlee and Mee's Facebook page and, so far, it has been shared over 37, 000 times, which has helped spread the message to unsuspecting parents around the world.
According to Henderson, the x-ray was sent to her by a pediatrician, whose identity is yet to be revealed, hoping that it would help people realise the importance of cutting food properly before giving it to small children.
Follow us on our Twitter account @amomama_usa to learn more.
Henderson said that children are not usually concerned about chewing their food, and that they may just swallow it in a hurry in order to do something fun without thinking of the consequences.
Children under the age of five are hihgly susceptible to choking while eating grapes, baby tomatoes and other small foods, which is why is important to slice them in half.
The little boy in the picture, whose name hasn't been shared, swallowed the grape whole, so he had to be put under general anesthesia and be operated on to have the piece of fruit removed from his throat.
According to the National Safety Council, choking is the fourth-leading cause of unintentional injury or death when it comes to infants, and that at least one child dies from choking on food every five days in the U.S.
Foods such as grapes, popcorn, small candy, raw pieces of vegetables, peanut butter, hot dogs and ice cubes can be found within the list of choking hazards for children.
Back in 2017, Emma Carver, from Michigan, was shopping with her two-year-old son Ayyan Umar when he started choking. The childen, who was sitting in the shopping cart, grabbed two grapes from a bag while his mother was looking for cheese.
Ayyan started choking and 911 was called as a customer attempted CPR after the child passed out. Unfortunately, the 2-year-old didn't survive, even though the emergency services personnel managed to dislodge one of the grapes.
Please fill in your e-mail so we can share with you our top stories!