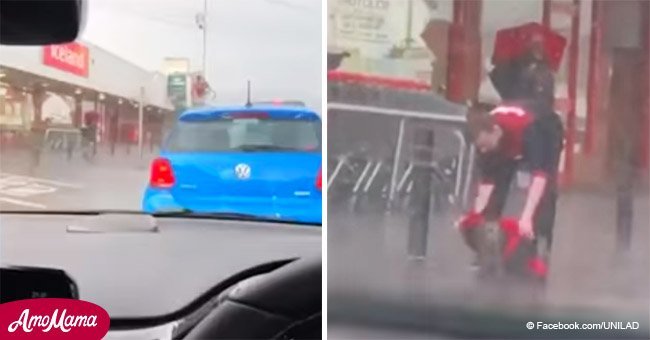 A store worker gave his jacket to a dog left outside to wait in the pouring rain

A compassionate man is touched by the plight of a dog left in the rain
Most stores don't let dogs in, so when a pet owner needs to pop in to run an errand, the poor animal is left outside.
That may not be so bad on a sunny day, but can be unpleasant if it's raining cats and dogs, as one poor canine learned to his discomfort.
This poor animal was standing miserably, tied to a post in the pouring rain when one kindly soul ran out and wrapped him in a jacket.
The moment was captured on film, and posted to Facebook, and is touching animal lovers all around the world.
"It's been crazy how fast it went viral and I didn't expect it in anyway , but I guess it shows how much people appreciate a genuine act of kindness no matter what it is!"
Stephen McIntosh, Unilad, 28th of August 2018.
He gave the dog his own jacket
An employee of Iceland in Belfast ran out in a rainstorm to help a dog who had been left outside, tied to a post.
Luke Carlin, 19, couldn't untie the dog and move it to shelter, so he took his jacket and covered the dog.
Stephen McIntosh, a man who was walking past saw the kind gesture and filmed it from his car.
Read more heartwarming stories on our Twitter account @amomama_usa.
A pooch caught in the pouring rain.
The incident occurred when the dog's owner, who is not named, dashed into a drugstore.
It hadn't started raining yet, so he left his pet tied to a post. When the deluge started the poor animal was drenched instantly, and Carlin and one of his colleagues could see it shivering in the cold rain.
The incredible video went viral
They decided to help, and that was when Carlin ran outside and covered the animal with his own fleece jacket.
Shortly after that, another one of Carlin's colleagues managed to free the dog and bring it inside the store.
McIntosh posted the video online and was astounded at the response, and as of now, 2.7 million people have already see the video.
If you enjoyed this doggy story, you will love the following articles
Rescued Corgi sees depressed man in airport and instantly realizes he needs comfort (photos)
Deaf puppy rescued from 50-ft hole after being trapped for more than 30 hours
Please fill in your e-mail so we can share with you our top stories!