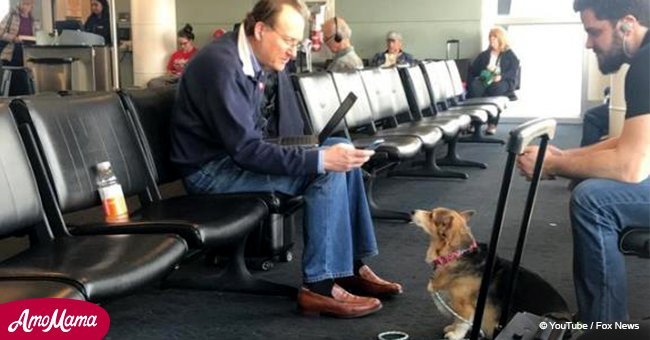 Rescued Corgi sees depressed man in airport and instantly realizes he needs comfort (photos)
Cora, a rescued Corgi trained to be a therapy dog, sensed a stranger's distress and approached him to give him a gift of love and compassion.
According to the report from The Dodo, Cora and Madison Palm, her owner who rescued her from her previous horrible conditions, were traveling one day when they got stuck in an airport.
It was here that Cora found a stranger and suddenly became friend toward him, approaching him and staying at his feet. The man started petting Cora and she enjoyed being loved by the stranger.
It was not an unusual sight for Palm as she was used to corgi walking up to strangers and being friendly with them. But what she did not realize was that this particular man at the airport was going to be a person was in most need of Cora's love that day.
Follow us on Twitter to learn more.
She told The Dodo, "Cora just kind of walked around in our little seating area and said hi to everyone who was walking by and sitting near us."
Palm then revealed how Cora sought the attention of a particular man sitting at the airport. She added, "She was taking a snooze so I let go of her leash briefly while I relaxed and had a snack; that is when she woke up and snuck over to him. Before I could even call her she was already at his feet being loved on."
She was worried at first that her dog might be bothering the weary traveler. She then inquired about it with the man himself.
Surprisingly, he told her then that he lost his dog just the previous night, and Cora's attention was just the thing he needed at that moment.
Palm explained that her dog just knows who is "hurting" and who requires her attention. She expressed her wonder at finding Cora capable of giving so much love despite being unloved for almost seven and a half years of her life.
Please fill in your e-mail so we can share with you our top stories!