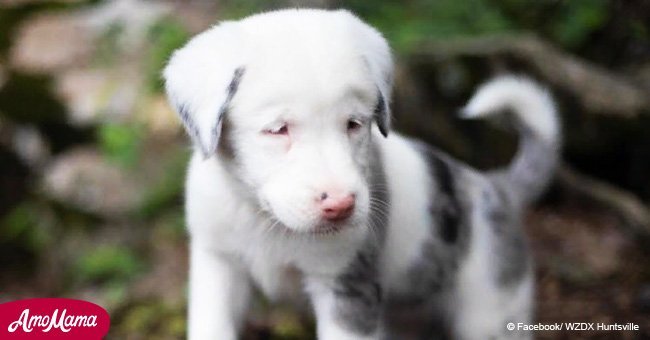 Deaf puppy rescued from 50-ft hole after being trapped for more than 30 hours
A deaf foster puppy was rescued after being trapped in a 50-ft hole for more than 30 hours in Alabama.
On June 30th, before 12:30 a.m., rescue officers successfully pulled out the seven-week-old puppy named Toffee from a hole in a yard on Lenlock Drive in Huntsville.
Toffee had been reportedly trapped in the hole since June 28th at around 5 p.m.
The deaf puppy's foster family took to Facebook to ask for help from the people in their community. Posting on a local page for lost pets, the Smith family hoped that help would come.
Soon enough, the dog's story became viral and volunteers started to arrive. For more details about Toffee, follow us on Twitter at AmoMama USA.
Toffee's foster owner, Karen Smith, talked to WHNT News 19 after the puppy was successfully retrieved from the hole.
Holding the puppy close, Smith said she couldn't believe her dog was finally out and that she was holding her.
For over 30 hours, the deaf puppy got stuck in the hole as rescue crews attempted to save her using a bunch of tools, traps, ropes, nets, and even food to try to lure the dog out.
Despite their efforts, they were unsuccessful.
Around midnight on the 30th, volunteers from the fire department watched Toffee's story on the WHNT News 19. They contacted the news program to ask how they could help the puppy.
When the volunteers from the Paint Rock Fire Department arrived, they began their work and was able to save the puppy using a snare.
Chief Finis Johnson from the fire department said that he was an animal lover and was glad to help the foster family and the puppy.
As for Smith, she thanked everyone who came to help rescue little Toffee.
"To every person that came, I mean every person that brought water, that brought the food, that brought generators, and lights. I mean there have been, it's been an amazing outpouring of just kindness and sweetness," she said.
Smith was adamant in making sure that the incident will never happen again and said that they are going to cover up the hole.
Please fill in your e-mail so we can share with you our top stories!