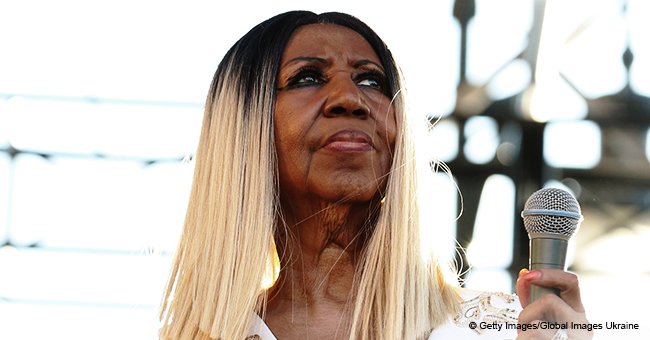 Aretha Franklin's ex-husband spills details on his final visit to singer

After a long battle with pancreatic cancer, Queen of Soul Aretha Franklin has passed away. Before she died, her ex-husband Glynn Turman made sure to pay her a visit just days before her death to say a proper goodbye.
The actor shared the details of his visit and the type of relationship he had with the legendary singer. He also made sure to describe the woman he got to know and love while he was married to her.
She was fighting for her life.
Glynn Turman, 71, visited Aretha during her final days at home in Detroit, where the two of them got some long-needed closure. He shared that when he held her "frail arm", he could feel the strong pulse of the "love of his life".
"I was able to feel her pulse, which was strong. So she was fighting 'til the very end," he said. "She's always been a warrior — a strong, strong woman and a fighter. Her pulse told me that she was not in surrender mode. She was going to fight it 'til the end."
Although he was able to visit the musician while she was conscious, she was not able to reciprocate the communication exerted by her ex-husband. The actor said that while she did know that he was there, she was not able to speak. However, her acknowledgment of his presence allowed them to "feed off of that recognition, feed off of the moment of both sort of realizing that time was extremely precious at this time."
Meeting the Queen of Soul
Glynn and Aretha met in Los Angeles when they were both backstage at the Dorothy Chandler Pavilion during a performance by actor Ben Vereen. When he was walking around, he heard someone call his name.
"Glynn Turman, my mother loves you!" the young man said. "I said 'Who's your mother?' He said, 'Aretha Franklin.' I said 'Whoa.'"
Marrying the legend herself
Thanks to Aretha's son, the two of them were able to communicate with one another after his acknowledgment. The pair married in 1978, but they quickly separated in 1982 due to having difficulty maintaining their long-distance relationship. Although they had no children together, they remained close through the years.
He recalls an amazing time in his marriage that made him realize that he actually married the Queen of Soul. Realizing that his wife wasn't in bed, he decided to look for her.
"She was sitting at the piano, barefoot, cigarette hanging on the side of her mouth. In her nightgown. Playing this amazing music. Just amazing. I started to say hey baby, come to bed, but stopped and sat down in the doorsill. And that's really the first time it really dawned on me that my wife was Aretha Franklin!"
The Real Aretha Franklin
Turman described his ex-wife to be a funny person who could easily turn any situation into a joke. He also recalled that Franklin was extremely stubborn and that when she sets her mind into something, there was nothing that could change it.
"Women's Rights Movement should have her name written all over. She just didn't take tea for the fever, as the old folks would say."
Glynn shared that Aretha was more than just "an iconic singer, an iconic performer" for him. To him, he was a mother, a wife, and a lover.
Rest In Peace, Aretha Franklin.
Please fill in your e-mail so we can share with you our top stories!