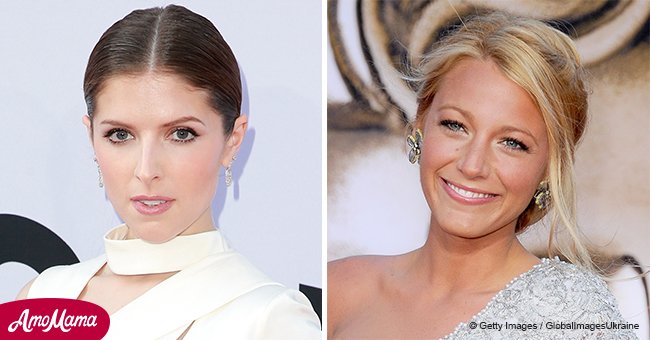 Famous singer opens up about her sexuality and kisses a woman

Anna Kendrick kissed Blake Lively for a scene of their upcoming film "A Simple Favor" and revealed that it was not the first time she kissed another woman.
33-year-old Kendrick went on to say that beyond sharing a kiss she has never been in love with another woman, although in her recent interview with PrideSource she didn't discard that it could happen to her.
Kendrick shared that she felt closer to Lively's character in the Paul Feig's film, to be released in September, when it comes to been "very comfortable with the fluid aspects of her sexuality." Read more on our Twitter account @amomama_usa
While promoting the most recent film in which the two actresses and friends share the screen, both of them have been very candid about their "womance," as Elite Daily called their special friendship.
Kendrick has shared the behind the scenes of their much-commented kiss in front of the camera, as well as stating that "it was a fun day" when the scene had to be shot.
"All I'm ever thinking about in [kissing] scenes is, who has gum? Who has a mint? And I think Blake is probably the same because I've never experienced a guy, like, searching for a mint and searching for gum," she said.
"So, we were the mintiest, freshest two people to have ever kissed in the history of America. Call Guinness."
-Anna Kendrick, PrideSource, August 27, 2018.
Ever the advocate of LGBT representation in the media, Kendrick also dedicated part of her interview to address her and her "Pitch Perfect" co-star Brittany Snow's wishes for their characters in the franchise to be together.
"It meant so much to us that there was this following around their latent relationship and, yeah, I thought it would've been really cool if it would have ended up coming to fruition in the end," Kendrick revealed.
"If we ever do a four, I will fight tooth and nail for it, but I'm not sure it's gonna happen," she added.
According to NickySwift, there are many celebrities in Hollywood who are refusing to identify with traditional sexual orientations, attempting to free themselves from labels that impose a certain behavior on them.
Josh Hutcherson, of the "Hunger Games" fame, actor Tom Hardy, and singer Kesha are examples of this new attitude that defies expectations about gender roles and sexual orientations.
And this sign of the times is not limited to stars from the entertainment industry, with a 2017 study suggesting that only less than half of Americans between the ages of 13 and 20 identify themselves as strictly heterosexual.
Please fill in your e-mail so we can share with you our top stories!