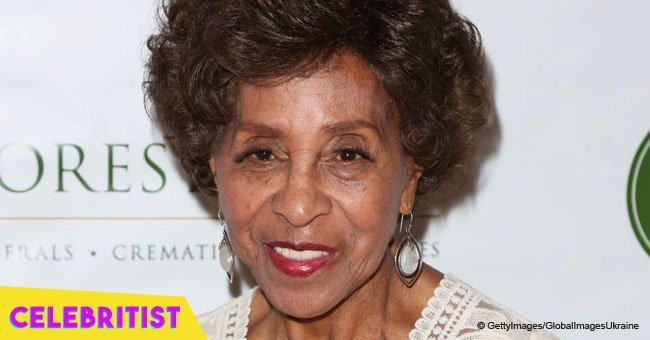 Marla Gibbs, 87, is a great mom as she shared beautiful photo with her grown up kids
Marla Gibbs took to social media to share a special photo showing how she celebrated Mother's Day with the family. The famous actress known for her appearance in "The Jeffersons" is very proud of her big, loving family.
The veteran actress, took to Instagram to share a very special photo featuring her children and grandchildren. In the pic, everyone has huge smiles on their faces and the Gibbs matriarch looks delighted with being in the company of her loved ones.
"Happy Mother's Day!! From my family to yours!" she captioned the pic.
Last December, Gibbs shared another glimpse at her family when she reposted a photo from her son's Joseph birthday in the company of her three children: Joseph, Dorian and Angela Gibbs, who's also an actress and appeared on "Sanford and Son."
In another family portrait shared by Marla, the 87-year-old mentioned that since she stopped aging at 29, all her kids are older than her now. She wrote:
"My babies... I told them I was 30 and they refused to stop at 29 so they are all older than me now. They are the loves of my life. #TheGibbsFamily."
Fans took to the comment section to share their thoughts on the picture. One user wrote "Y'all look good and you look very young," and another added, "Beautiful family picture, you all are looking good."
Margaret Theresa Bradley is the real name of the actress, singer, comedian, and producer from Chicago, Illinois. Her most prominent role was that of Florence Johnston, George Jefferson's maid, in the CBS situational comedy show "The Jeffersons," which aired for eleven seasons from 1975 to its finale in 1985.
The show has been one of the longest-running comedies in television history and it managed to achieve this with a cast of mostly African American actors.
Marla Gibbs was part of the recurring cast of the show for its first three seasons. She was upgraded to be part of the main cast starting from season four.
Gibbs married her high school crush back in 1955 and their marriage lasted almost two decades until their divorce in 1973.
During their marriage, they had three children together: Angela Elayne Gibbs, an actress like her mother, Joseph Gibbs, and Dorian Gibbs, who worked on "The Jeffersons" as a writer.
Please fill in your e-mail so we can share with you our top stories!