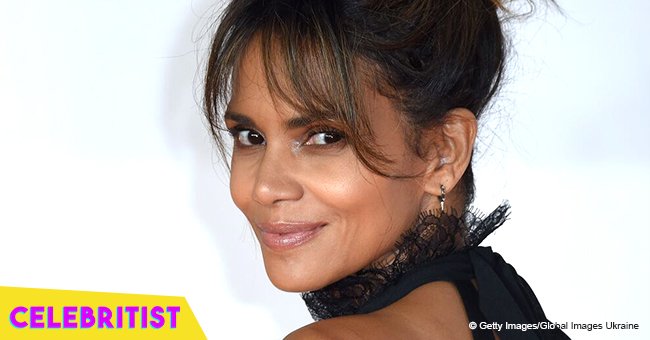 Halle Berry shares photo of young son sleeping peacefully with fluffy dog

Actress Halle Berry, who is known for being very private about her children, took to Instagram to share a photo showing her son sleeping next to the family dog.
In the image, four-year-old Maceo appeared laying down on a bed next to the family pet, Jackson, wearing blue pajamas. Even though the actress, didn't show her son's full face, it surprised many people because she is very cautious about her posts displaying her children.
For the caption, Halle wrote: "Man's best friend," next to the hashtags "Love my Pack" and "Living Like Jackson." As soon as the actress uploaded that picture, her followers took to the comment section to share their thoughts.
One of them was Instagram user @coco_mojito, who admitted that the image stole their heart as it was "so adorable."
JACKSON, THE NEWEST MEMBER OF THE FAMILY
As People reported, the dog joined the actress' family in late-May 2017 after their beloved cat, Playdough, passed away.
In a post that she shared on Instagram, she confessed that while people couldn't replace one pet with another, Jackson would bring joy and ease the pain of the loss.
PLAYDOUGH PASSING
Halle confessed only weeks before Jackson came into their lives that Playdough died due to brain cancer. "This little guy lit up our lives and brought us joy every day for 16 years! While his loss is tough for all of us, especially my children, it's an inevitable part of life," she added.
MACEO'S FACE IN SOCIAL MEDIA
Even though the actress has done her best to keep her children's identities as private as possible, she has been showing their faces on Instagram lately. One of the posts that surprised most people was posted two months ago when the family was in Bora Bora.
It portrayed Maceo on board a boat looking to the side, showing most of the features of his face. As Celebritist previously reported, Halle was asked about why she kept hiding their children's faces.
"It's my belief, and I'm not criticizing others who have different beliefs, that it's my job as their mother to protect their privacy as best I can," revealed the actress.
Please fill in your e-mail so we can share with you our top stories!