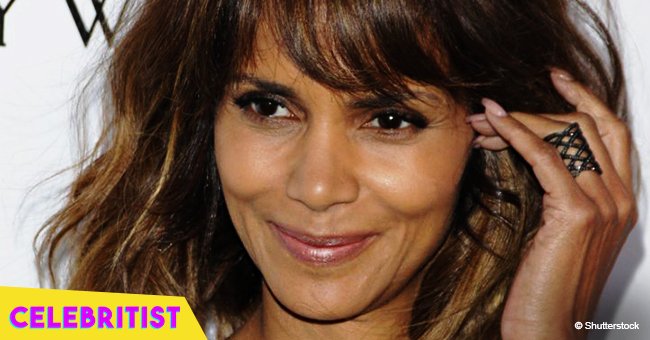 Halle Berry reveals real reason she finally showed son's face on social media

Halle Berry finally opens up about the reason why she finally revealed her son's face on social media. She's been protecting her children's identities all these years and even clapped back at a fan who accused her of being ashamed of her kids.
Halle Berry surprised her social media followers a few weeks back when she finally revealed the face of her son Maceo during their trip to Bora Bora.
The A-list actress has been very cautious about posting photos of her children in the past and would never show their faces when featuring them. It even became a subject of dispute between the protective mom and a fan who commented in October,
"What's with the hiding of the faces? They're beautiful children why not show them off?"
Responding to the commenter, Halle said,
"I've noticed you have said this several times now so let me be clear — I'm not at all ashamed of [my] children. I try to find creative ways to incorporate them into my feed because they are the biggest part of my life, but I also work very hard to keep their identities as private as I can considering they are only children."
"It's my belief, and I'm not criticizing others who have different beliefs, that it's my job as their mother to protect their privacy as best I can."
The mother-of-two also said it would be her kids' prerogative later on when they're of age if they wished to show their faces on the internet.
However, in June, Halle seemed to have a change of heart when she finally posted a photo of her 4 ½-year-old son revealing his face. Though it was just a profile of him, it already gave fans a clear picture of what Maceo looked like, and they delighted at how handsome he was.
With Halle sharing a glimpse of her child's identity, it didn't take long before she opened up about the real reason why. During her recent interview with 'Extra's' Terry Seymour at the Imagine Cocktail Party Fundraiser for the Jenesse Center, Halle finally disclosed why she decided to share Maceo's face to the world.
"That was a struggle… I really don't like to show my kids very much… but I do realize… my people are, like, solid for me and me for them and I feel like I want to include them."
"But it's a fine line because I don't want to exploit my children… I want to protect my children, so I thought, 'Half the face is good.'"
Maceo is the actress' son with ex-husband Olivier Martinez. She also has a daughter, 10-year-old Nahla from her previous relationship with Gabriel Aubry.
Please fill in your e-mail so we can share with you our top stories!